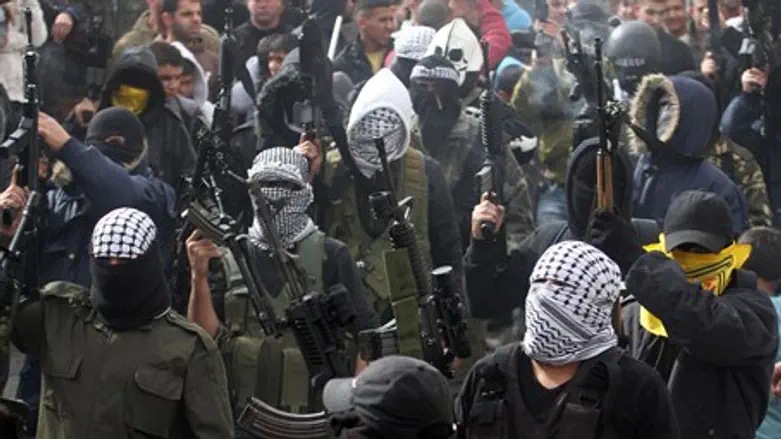 Fatah's Al-Aqsa Martyrs' Brigades
Flash 90
An Arab terrorist from Tulkarem in Samaria stabbed at least 12 people on a bus in Tel Aviv on Wednesday, and the Fatah faction of Palestinian Authority (PA) chairman Mahmoud Abbas lost no time warping it into a "self-sacrificing operation."
Fatah referred to the terrorist attack, which left three critically wounded, as an amaliya fida'iya meaning "self-sacrificing operation," in a post on its official Facebook reporting the incident, revealed Palestinian Media Watch (PMW).
"Urgent! Self-sacrificing operation in Tel Aviv: A knife attack inside a bus. Reports of the wounding of 10 Israelis and the wounding of the man who carried out the operation from Israeli police fire. The area has been sealed off and the Israeli police is conducting an extensive search in the area," read the Fatah post on Wednesday.
The PA's unity partner Hamas was more open in praising the attack, in a post on the Hamas-controlled Palestinian Interior Ministry in Gaza's Facebook page.
"A morning of homeland and freedom, a morning of the knife's point of the rebel for Palestine," rejoiced Hamas.
 Prime Minister Binyamin Netanyahu and numerous other Israeli politicians responded to the attack by blaming Abbas for causing it, citing the PA's incessant incitement and praise of terrorism as instigating the stabbing and other incidents like it.
However, official PA TV flipped things on their head in reporting the attack, calling it a "stabbing operation" in an aggrandizement and justification, and accusing Netanyahu of "incitement" for pointing the finger at the PA and Fatah for its incitement.
In fact, just hours after the stabbing Fatah again incited terrorism on its Facebook page, posting images of various weapons and calling for violence.