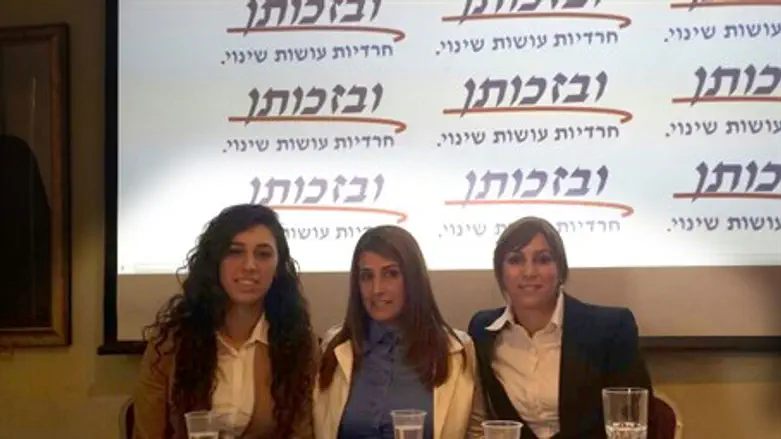 B'Zhutan
Courtesy
The new female haredi party B'Zhutan has already been threatened with excommunication and other forms of backlash by members of the haredi community, to the point that Deputy Attorney General Dina Zilber has decided to get involved.
Zilber on Thursday sent a letter to the Central Elections Committee chairperson, judge Salim Joubran, responding to the societal pressure being directed at the party's three founders Ruth Kolian, Noa Erez and Karen Mozen.
"One of the rabbis identified with (the haredi party) United Torah Judaism published statements about women who back a party that is not led by 'gedolei Yisrael' (leading rabbis - ed.)," wrote Zilber.
Elaborating, she continued "according to the publication, a woman who acts in opposition to the rabbi's orders will have her ketuba (marriage contract - ed.) removed from her, her income will be harmed (it will be forbidden to study at her educational institutions and to buy products from her), and her children will be removed from institutions of study."
"I hereby bring to your attention that in these days the state attorney is investigating the criminal aspects that apparently emerge from the publications," stated Zilber. "A threat on haredi women not to exercise their right to vote that is given to them as citizens of the state is an act that must not be allowed."
Indicating the steps ahead, she noted "therefore the more that the charges are verified, this invalid act must be strictly condemned, while passing a clear message to all parties and the public about the indecency and criminal ramifications that may accompany it."
Zilber explained that the statements in the publication were designed to prevent haredi women from voting freely, and likewise prevent haredi women from running in a Knesset party, thereby denying their rights as citizens, and also preventing them from having representation in an elected government.
The deputy attorney general added that the statements constitute intimidation and the exclusion of women, calling it "a serious phenomenon characterized by discrimination of women only due to their being women."
She noted legal rulings in the past setting precedent in the fight against exclusion of women and pledged action, concluding by saying "I turned to you on this matter as part of my activities in this context, to reduce the proportions of this lowly phenomenon and to prevent its spread."
B'Zhutan has made clear that its platform is meant to represent the societal issues of haredi women, including those who are refused a divorce and become agunot, along with the challenges faced by single-parent and divorced women in the haredi community.
On a radio show Attorney Dov Halbertal, a prominent figure within the Lithuanian-haredi stream, responded to B'Zhutan founder Ruth Kolian, threatening "you will be excommunicated for generations."