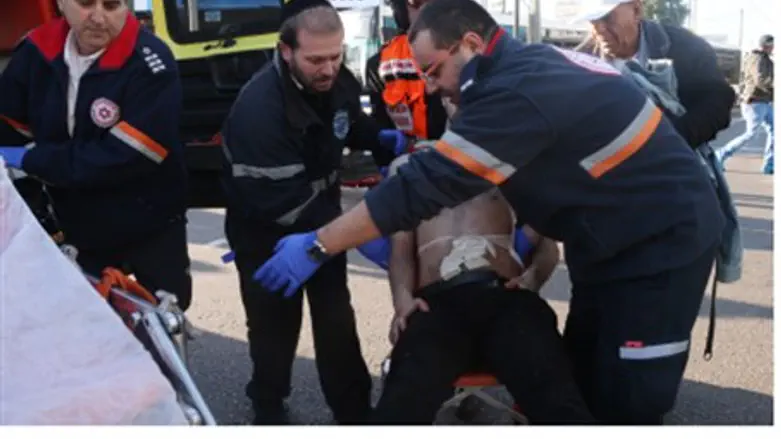 Bus stabbing.
Flash 90
Herzl Biton, the driver of the number 40 bus that was attacked by a Palestinian terrorist Wednesday, is conscious after having been in a coma for just over a day.
However, officials at Ichilov Hospital in Tel Aviv noted, Biton's life is still in danger, and he remains connected to a respirator. Biton was stabbed three times in the stomach, and suffered significant internal damage.
Also seriously injured in the attack was a 69-year-old woman, who is still being treated in the hospital's Intensive Care Unit. Her condition is also considered life-threatening.
Riders on the number 40 Dan bus said that Biton acted "above and beyond" in trying to keep them safe in the wake of the attack. Biton, who was stabbed first, fought with the terrorist, giving many passengers a chance to evacuate the bus.
Speaking with family members, Ashkenazic Chief Rabbi of Israel, Rabbi David Lau, said that the driver had a "special merit" in Heaven.
"We believe that everyone who saves a Jewish life saves the entire world, and Herzl was a messenger for a mitzvah to save the passengers and we believe and pray that he will recover soon with all the other wounded," he said. "All of Israel prays for his recovery, along with all those injured in this difficult attack," Rabbi Lau said.
Twelve people were reported wounded in the stabbing, with 17 receiving treatment from Magen David Adom (MDA).
The injured were taken to Ichilov and Tel Hashomer hospitals. An eyewitness told IDF Radio that two of the wounded were very seriously hurt, having been stabbed "in the brain (and) in the neck."
According to police, a team from the Israel Prisons Service's elite Nachshon unit happened to be driving behind the bus when the attack took place. The officers got off the car and gave chase to the terrorist, shot him in the leg and arrested him.