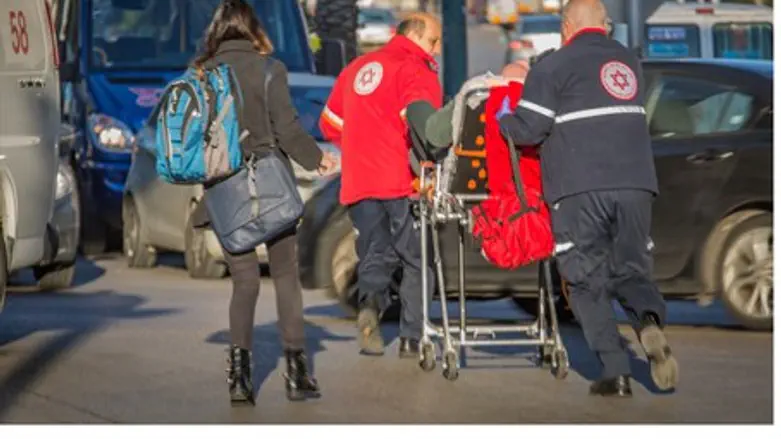 Tel Aviv stabbing
Assi Divlinsky, Magen David Adom
The United States' embassy in Tel Aviv on Wednesday issued a travel warning to American citizens and government personnel in Israel, citing the recent tensions along Israel's northern borders and the terrorist stabbing attack in Tel Aviv.
"Because of concerns about security on Israel's northern borders, U.S. government personnel are currently required to obtain advance approval if they wish to travel within 1.5 miles (2.4 kilometers) of the Lebanon border, or travel on or east of Route 98 in the Golan Heights," the advisory said.
"Further, in light of the stabbing attack on a public bus in Tel Aviv on January 21, U.S. citizens are reminded that due to security concerns, U.S. government employees are prohibited from using public buses throughout Israel and the West Bank (Judea and Samaria -ed.)," the statement added.
Northern residents and the IDF have been on high alert throughout the week, after an IAF airstrike in the Syrian Golan Heights killed a senior Hezbollah commander and an Iranian Revolutionary Guards general on Sunday, along with several other Hezbollah and Iranian fighters.
Hezbollah responded by vowing an attack on Israel, but made clear it does not want another full-scale war.
The IDF has nonetheless remained on high alert, and covertly moved Iron Dome batteries close to its northern borders late Monday night. 
Meanwhile, in Tel Aviv, 23-year-old terrorist Hamza Mohammed Hassan Matruk, a resident of Tulkarem, boarded the number 40 bus and started stabbing its passengers near the Ma'ariv junction in the central part of the city.
A recent advisory from the United States Consulate in Jerusalem, which followed the terrorist attack on a synagogue in the Har Nof neighborhood, encouraged American citizens in the area to make themselves "harder targets" for terrorists.