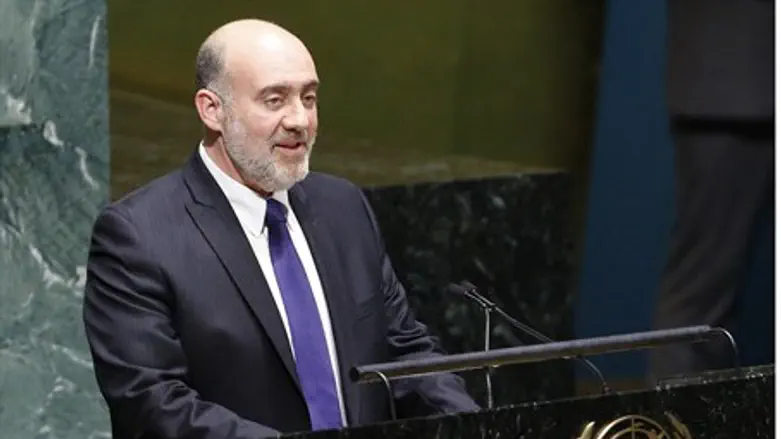 Ron Prosor
Reuters
Israel's ambassador to the United Nations, Ron Prosor, on Wednesday called on the Security Council to condemn the terrorist attack on a bus in Tel Aviv, in which some 20 people were wounded.
In a letter to the members of the Council, Prosor pointed out the incitement by the Palestinian Authority (PA) and Hamas, and their encouraging further attacks against Israelis.
"Hamas, a terrorist group, and President Abbas's partner in the Palestinian unity government, praised the stabbings in Tel Aviv and encouraged Palestinians to commit similar attacks," wrote Prosor, who also included the cartoons glorifying the attack which were published just two hours after it took place.
"The Security Council has yet to say a word in response to the wave of terrorism aimed at Israeli citizens in recent months. By remaining silent, the Council is giving terrorists and their sponsors a free pass," he added.
"I urge the Council to immediately and unequivocally condemn the recent terrorist attacks, the growing Palestinian incitement, and denounce those states that are lending their support to this murderous campaign."
23-year-old terrorist Hamza Mohammed Hassan Matruk, a resident of Tulkarem, carried out Wednesday morning's attack against Israeli commuters on the number 40 bus in central Tel Aviv, wounding at least 20 people, among them three seriously.
Prime Minister Binyamin Netanyahu said the attack was "a direct result of the toxic incitement spread by the Palestinian Authority against Jews and their state."
Hamas praised the stabbing attack, calling it a "worthy response" for the "suffering" Israel has imposed on Arab residents living under the PA.
Jewish Home chairman Naftali Bennett joined a chorus of MKs who blamed PA Chairman Mahmoud Abbas for the attack, and said that it was high time Abbas condemned attacks like this.
"The person responsible for the Tel Aviv attack is the same person who was seen marching in Paris last week with world leaders condemning terrorism," Bennett said, referring to Abbas' participation in the mass protest held in Paris last week against the shooting attacks at the offices of Charlie Hebdo and the Hyper Cacher supermarket, in which four Jews were killed.
"When Abbas incites against Israel and Jews day and night over his media, names public squares for terrorists, and offers cash prizes to murderers of Jews, he himself becomes the supplier of the knives for terror attacks. The terrorists, essentially, are just his messengers," he said.