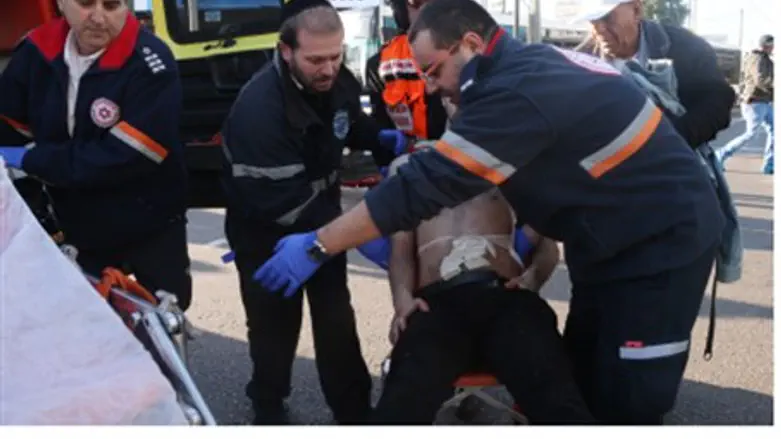 Bus stabbing.
Flash 90
A terrorist stabbing attack took place Wednesday morning on a bus in central Tel Aviv, on Begin Road, near Beit Maariv. The terrorist in an Arab man, reportedly from Samaria.
Videos taken a few minutes after the attack show wounded civilians receiving first aid from emergency teams.
Another video shows the wounded terrorist after his arrest.
Up to 12 people were reported wounded in the stabbing, with 17 receiving treatment from Magen David Adom (MDA).
According to hospital sources cited by AFP, at least 12 people were wounded in the attack, including three who were in serious condition, four in moderate condition and five who sustained light injuries. Another seven people were treated for shock
The wounded were taken to Ichilov and Tel Hashomer hospitals. An eyewitness told IDF Radio that two of the wounded were very seriously hurt, having been stabbed "in the brain (and) in the neck."
He said that some of the wounded got away from the bus and advanced about 100 or 150 meters before collapsing.
The official police Facebook page posted video footage from the scene of the attack.
The stabbing rampage took place inside the #40 line bus. The terrorist reportedly stabbed the driver first, and this prevented the driver from opening the bus's doors to let the passengers escape. The doors were reportedly opened by one of the passengers. 
He then got off the bus and was chased by police on Hamasger Street.
According to police, a team from the Israel Prisons Service's elite Nachshon unit happened to be driving behind the bus when the attack took place. The officers got off the car and gave chase to the terrorist, shot him in the leg and arrested him. 
He is reportedly 23 years old and a resident of Tulkarem in Samaria, who was in Israel illegally.
צילום: פלאש 90
צילום: פלאש 90
צילום: פלאש 90
צילום: יחידה אווירית-משטרת ישראל
credit: פלאש 90
credit: Assi Divlinsky, Magen David Adom
credit: Assi Divlinsky, Magen David Adom
credit: Assi Divlinsky, Magen David Adom
credit: Assi Divlinsky, Magen David Adom
credit: Assi Divlinsky, Magen David Adom
credit: Assi Divlinsky, Magen David Adom
credit: Assi Divlinsky, Magen David Adom
credit: Assi Divlinsky, Magen David Adom
credit: Assi Divlinsky, Magen David Adom
credit: Assi Divlinsky, Magen David Adom
credit: Assi Divlinsky, Magen David Adom
credit: Assi Divlinsky, Magen David Adom
credit: Assi Divlinsky, Magen David Adom