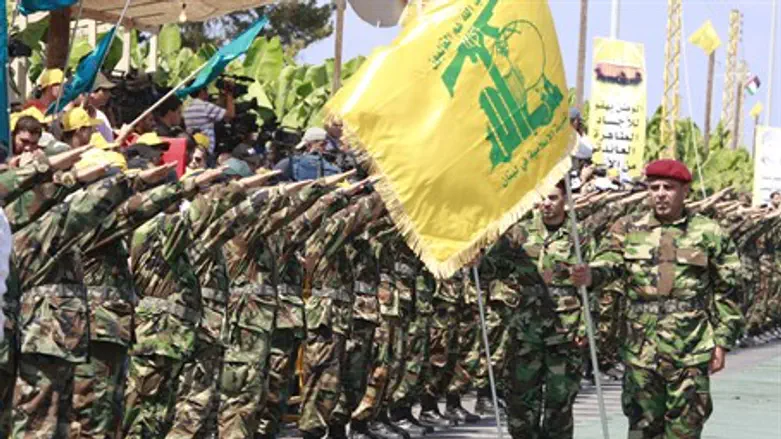 Hezbollah terrorists (file)
Reuters
In response to the reported Israeli airstrike in Syria that killed Jihad Mughniyeh, the son of Hezbollah's former operations officer Imad Mughniyeh, the Lebanese-based terrorist group has threatened Israel with retaliation -- but noted that it would be limited.
"The attack on six Hezbollah members will be answered with a painful and unexpected response, but it can be assumed that it will be controlled so as not to drag into a wide-spread war," Hezbollah sources were quoted as saying in their affiliated Lebanese newspaper As-Safir, as cited by Yediot Aharonot.
In addition to 25-year-old Mughniyeh, the other Hezbollah terrorists killed in the strike were listed by the organization as Mohammed Issa (43) who was defined as a commander, Abbas Ibrahim Hijazi (36), Mohammed Ali Hassan Abu Al-Hassan (30), Razi Ali Dawi (27) and Ali Hassan Ibrahim (22).
An Iranian field commander, Abu Ali Tabtabai, was also reportedly also killed in the strike, which entirely destroyed one Hezbollah vehicle and damaged another, a Lebanese security source told The Daily Star.
The Hezbollah response hinting at a toned-down "controlled" attack so as to avoid war comes after Hezbollah leader Hassan Nasrallah bombastically threatened to conquer the northern Galilee region of Israel in two interviews last week.
"When the resistance (Hezbollah) leadership...asks you (fighters)...to enter into Galilee, that means the resistance must be ready to enter into Galilee and to go even beyond the Galilee," Nasrallah said last Thursday, after last Tuesday saying "we are ready to intervene there and take over."
Intelligence sources revealed that Mughniyeh "stood as the head of a wide and deep terrorist infrastructure backed by Iran directly and connected to Hezbollah, which had already acted against Israel in the Golan Heights."
Mughniyeh "already planned, and had in his sights, additional serious and murderous attacks against Israel in the Golan Heights. Attacks including rocket fire, breaches, explosions, anti-tank missiles and the like, with the goal being to kill soldiers, to harm Israeli communities in the Golan Heights, and to kill Israeli citizens."
The sources further assessed that Mughniyeh "is an uninhibited terrorist, who built a very serious terrorist organization with the help of Iran and Hezbollah, (his was) a terrorist organization with abilities, and he was busy planning serious attacks."
The IDF Artillery Corps last week posted footage of an extended drill that was conducted in the Golan Heights meant to simulate combat against terrorists attacking from the northern border.