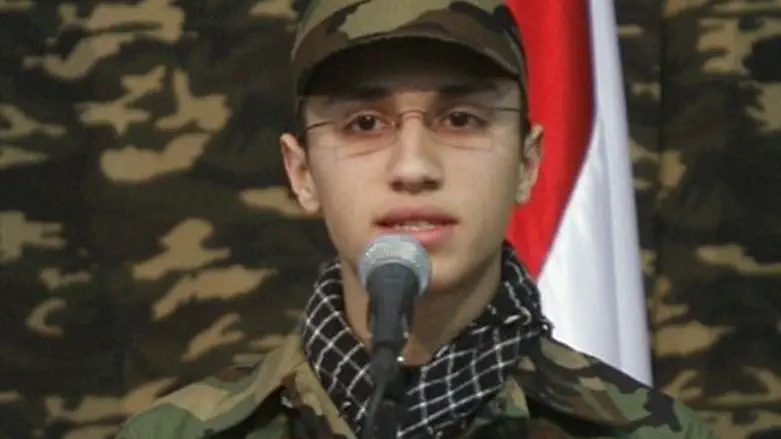 Jihad Mughniyeh in 2008
Reuters
Hezbollah admitted Sunday that one of its senior men was killed along with five or six other operatives in an IAF strike in Syria. Reports quoted in Israeli media said that the man is Jihad Mughniyeh, the son of Imad Mughniyeh, a senior Hezbollah officer who was also killed by Israel several years ago. Hezbollah reportedly called the death of Mughniyeh "an unbearable blow." He was reportedly very close to Hezbollah chief Hassan Nasrallah.
The men killed in the strike were reportedly assisting terrorists in preparing missiles for launch against Israel. 
Besides Mughniyeh, six other fighters were killed, a Lebanese security source told The Daily Star. They included Hezbollah field commander Mohammad Issa, whose kunya name is Abu Issa, the source said.
An Iranian field commander, Abu Ali Tabtabai, was reportedly also killed in the strike, which entirely destroyed one Hezbollah vehicle and damaged another, the source said.
"A group of Hezbollah mujahedeen were martyred in a Zionist rocket attack in Quneitra, and their names will be revealed later," said a message flashed on Hezbollah's Al Manar news channel Sunday.
Jihad Mughnieh was 'Commander of Golan'
AFP reported that a source in Israel's defense establishment confirmed that Israel had carried out an attack in Syrian territory. Such admissions by Israel are rare.
An interview given by an official in the Syrian opposition to CNN Arabic in October said that Jihad Mughniyeh has been appointed "commander of the Golan Heights area" by Hezbollah.
Mueid Razlan, a member of the Syrian opposition forces fighting the regime of President Bashar Al-Assad, told CNN at the time that Hezbollah is expanding its operations on the border between Syria and Israel and warned of a possible crisis in the region.
Imad Mughniyeh's death in a car bomb attack in Damascus in February of 2008 has been blamed on Israel, and Hezbollah has promised to avenge his death.
Imad Mughniyeh was on the most wanted list of the US for attacks on Israeli and Western targets until his death.
Supporter holds poster of Imad Mughniyeh
Reuters
IAF helicopter fired missiles
Al Manar reported Sunday that an IAF helicopter fired two rockets at a target in Mazraat al-Amal near Quneitra.
Al Mayadeen TV said that the missiles were launched by an IAF aircraft, without specifying that it was a helicopter.
Western security sources said that the missiles were fired at a team of terrorists who had begun laying explosive charges on the Syria-Israel border near Quneitra.
According to the report, shortly before the IAF struck, two drones were seen circling above the area, apparently to collect intelligence.
Mazraat al-Amal is located in the Syrian Golan, near the border with Israel, and recent reports said that Jabhat al-Nusra forces were occupying it.
The IDF refused to formally confirm or deny the report of the strike and said that it "does not respond to reports in foreign media."
Earlier in the day, it was reported that Israeli forces fired smoke grenades and tear gas toward Lebanese territory. Three Lebanese soldiers were taken to a hospital for treatment following that incident.
Syrian plane crashes, 35 killed
Meanwhile, at least 35 Syrian soldiers were killed overnight when an army cargo plane carrying food and ammunition crashed due to bad weather in the northwest of the country, media outlets reported Sunday.
The UK-based Syrian Observatory for Human Rights said the plane crashed after hitting electricity lines in heavy fog in the Idlib province, although Jahbat al-Nusra claimed responsibility for the incident on Twitter.