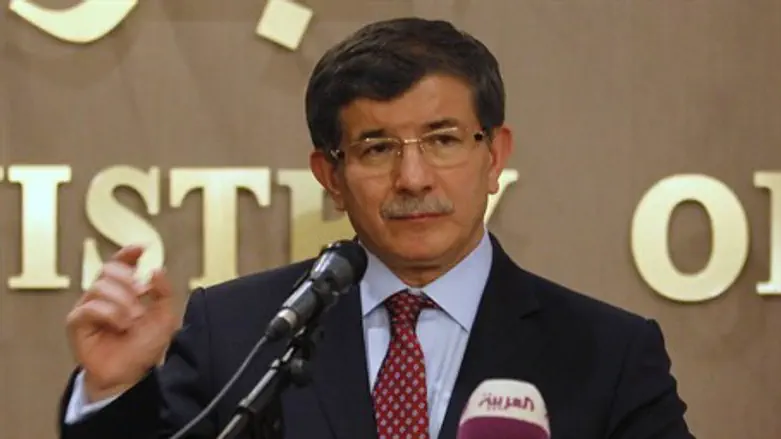 New Turkish prime minister Ahmet Davutoglu
Reuters
Turkish Prime Minister Ahmet Davutoglu on Thursday said Israeli Prime Minister Binyamin Netanyahu had committed crimes
against humanity comparable to those behind the Paris attacks that left 17 dead.
"Netanyahu has committed crimes against humanity the same like those terrorists who carried out the Paris massacre," he told reporters in televised comments.
His comments risk ratcheting up a new row in the increasingly tense relationship between the two countries after Turkish President Recep Tayyip Erdogan blasted Netanyahu for "daring" to attend the weekend's anti-terror solidarity march in Paris after the attacks.
Netanyahu shot back Wednesday that Erdogan's "shameful remarks must be repudiated by the international community."
Davutoglu said Netanyahu's "crimes against humanity" included the 2010 "Israeli assault on Turkish aid vessel Marmara" and last year's "onslaught on Hamas-controlled Gaza."
The Turkish Prime Minister said Netanyahu was "the head of a government which massacred children playing in the beaches in Gaza and destroyed thousands of houses."
He said the Israeli premier's government "made almost natural the killing of Palestinians at every opportunity." It had also "massacred our citizens by launching an operation against an aid ship in the international waters."
Turkey's relations with Israel - once a key partnership for the Jewish state with a Muslim nation - have steadily deteriorated under Erdogan's rule.
The Turkish president is known for his angry, and oftentimes anti-Semitic outbursts at the Jewish state, declaring in July that Israel had "surpassed Hitler in barbarism."
He has also been accused of inciting against Jews in general; anti-Semitism in Turkey has risen considerably in the years since his Islamist AKP party took power, prompting many young Turkish Jews to leave the country - often to Israel.
In 2009, Erdogan walked off the stage at the World Economic Forum after an angry exchange with then Israeli president, Shimon Peres.