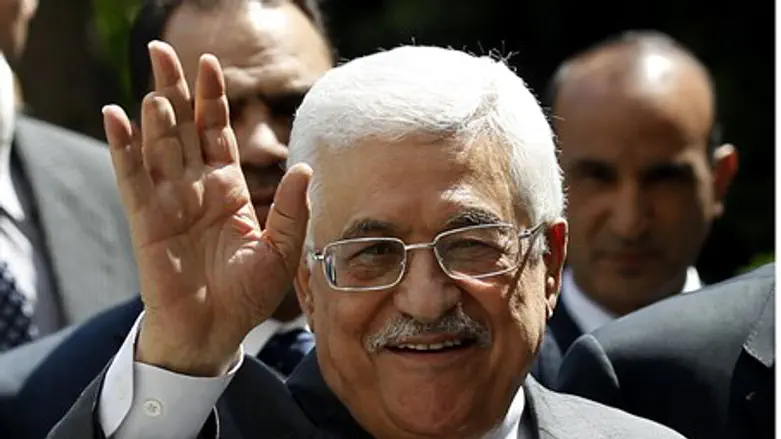 PA Chairman Mahmoud Abbas
Reuters
A Lebanese newspaper reported that Palestinian Authority chief Mahmoud Abbas told Egyptian President Abdel-Fattah al-Sisi that the Palestinian Authority would not file a case against Israel in the International Criminal Court if negotiations between Israel and the PA resumed "in the coming weeks." According to the report in the Al-Ahabar newspaper, Abbas made the comments to Sisi during their meeting in Cairo Wednesday.
The PA several weeks ago formally requested membership in the ICC. Approval of the PA's membership is expected within two months. Last week, the PA recognized the ICC's jurisdiction to investigate what it said were Israeli war crimes allegedly committed during last summer's Gaza war. The ICC can prosecute individuals accused of genocide, crimes against humanity and war crimes committed since July 1, 2002.
Israeli and US officials have decried the PA's attempts to be included in the ICC. Israel has delayed the transfer of $127 million to the PA in retaliation for the initial step, and the US said it was "reviewing" its $440 million aid package to the PA over the move, although technically membership to the ICC does not incur punishment - only a war crimes suit against Israel does, under American law. The PA has stated intent to file those charges against Israel in the Hague, and sources say that Palestinian Authority (PA) Chairman Mahmoud Abbas and his aides are already preparing material to do so.
However, all that may be unnecessary, Abbas reportedly told Sisi – if Israel agrees to return to the talks that the PA itself broke off last year. The talks unraveled last March when the PA refused to recognize Israel as a Jewish state and to extend talks beyond their April 29 deadline, indefinitely postponing the final tranche of 104 convicted terrorists which were to be released in a "goodwill" gesture that was contingent on the progress of negotiations. According to Foreign Minister Avigdor Liberman, the two sides were "very close" to a deal when the PA chief Mahmoud Abbas "ran away from making a commitment at the last minute, as he did when Ehud Olmert proposed his plan, and as Yasser Arafat did at Camp David after Ehud Barak proposed his plan."
According to the Lebanese report, Sisi had been approached by members of the Quartet to dissuade Abbas from taking Israel to the International Criminal Court, as they are concerned that such a move would further complicate the prospects for renewed negotiations after the Israeli elections in March.