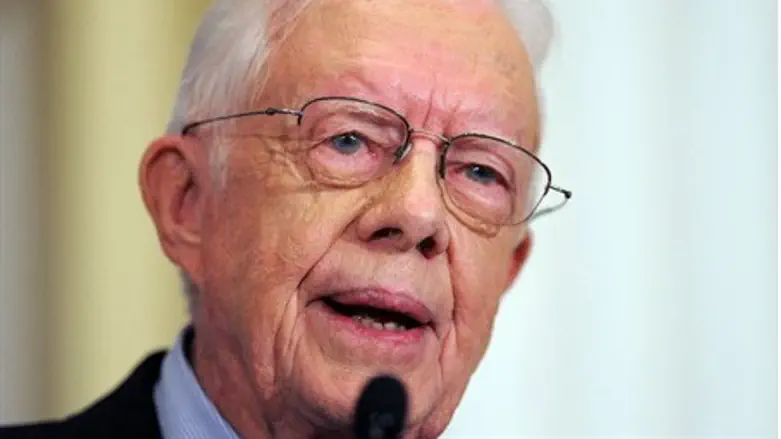 Former President Jimmy Carter
AFP/File
Former United States President Jimmy Carter suggested on Monday there was a link between the Paris terrorist attack on the French magazine Charlie Hedbo and the conflict between Israelis and Palestinian Arabs, Breitbart reports.
The comments were made on Comedy Central's "The Daily Show" with Jon Stewart.
On the show, the former president was asked whether the violence in Paris was actually fueled by something else other than Islamic extremism.
"Well, one of the origins for it is the Palestinian problem," Carter replied. "And this aggravates people who are affiliated in any way with the Arab people who live in the West Bank and Gaza, what they are doing now — what's being done to them."
The former president did not elaborate as to how the "Palestinian problem" was related to the terrorist attacks in Paris.
Carter went on to say, however, that the West was seeing a "new evolutionary development in terrorism," in which Western Muslims are trained to fight by jihadists in the Middle East before going home and bringing terrorism to their home countries.
"I think this event is going to waken [sic] up the people in charge of security to watch those people more than they have in the past," he told Stewart.
Carter has in the past called on the European Union to "introduce proper labeling of goods produced on illegal Israeli settlements in the West Bank."
In 2012, he condemned Israel over the stalled peace talks and said that Prime Minister Binyamin Netanyahu's government was not interested in pursuing a two-state solution.
In 2006, Carter wrote a book entitled "Palestine: Peace Not Apartheid." His claims in the book, which he continued to espouse even after factual errors were revealed, led the honest reporting group CAMERA to say that the ex-president "clearly has an Israel, and even a Jewish problem."
Carter also made highly offensive statements on Jews and Judaism in the Sunday school lessons he taught in church decades ago.
Last year, he expressed support for the Palestine Liberation Organization's (PLO) move to seek membership in international organizations, saying that doing so is not a blow to peace talks, but rather a move that will "help to redress the power imbalance between Israelis and Palestinians."