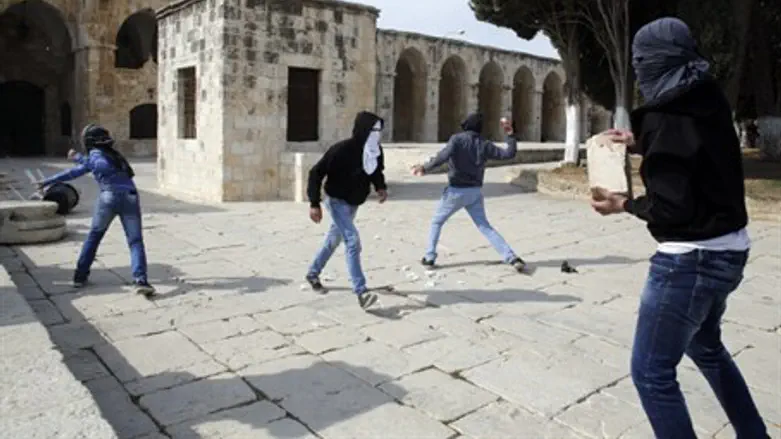 Arab rock throwers on Temple Mount
Flash 90
Investigators from elite police unit Lahav 433, working in conjunction with the Israeli Security Agency (ISA or Shin Bet) uncovered that certain non-governmental organizations are being used to finance terrorist organizations. 
The offices of the NGOs in question have been shut down. 
They were suspected of financing "organizations which identify with the Islamic Movement and Hamas" and encouraging activists to confront visitors on the Temple Mount. 
Lahav 433 and Shin Bet forces arrived Monday morning at the offices of the two supposed charities, which the Defense Minister, on the recommendation of Shin Bet, recently outlawed. 
The two groups are "Al-Fajr" in Nazareth and "Muslim Women for Al-Aqsa" in Jerusalem. 
It is suspected that the charities' funds had been used to finance the activities of officials in Hamas and the Islamic Movement, while also committing offenses under the Prohibition on Terrorist Financing Law, the Money Laundering Law, as well as tax fraud offenses. 
Police suspect that the groups particularly finance the activities of activists "Marabton" and "Marabtat", who come daily to the Temple Mount and stay in the area designated for visitors and tourists.
When groups of Jewish visitors arrive to the Temple Mounts, these activists tend to use physical and verbal violence against the visitors "in a manner that violates freedom of religion as well as violates the personal safety of visitors to the site," police said.
The unit conducted a search Monday morning of the charities' offices and confiscated computers, documents, and bank statements. 
Searches were carried out with the assistance of the Jerusalem District Police and the Northern District Police.
An undisclosed number of people, who happened to be on the premises during the searches, were detained for "financing terror, money-laundering... and tax offenses."