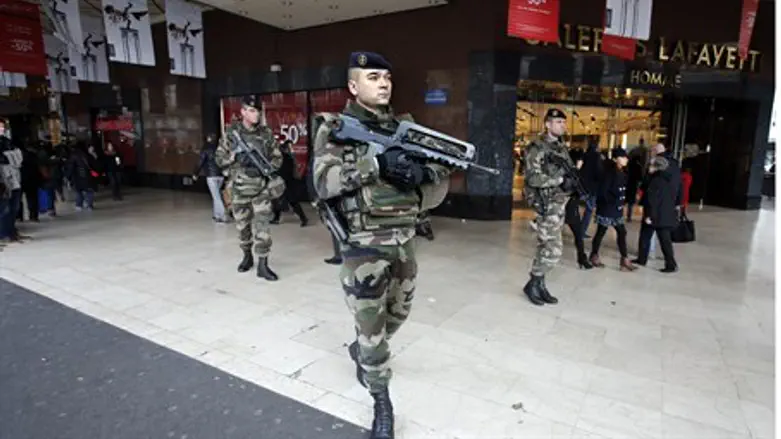 French soldiers deployed in Paris
Reuters
France will deploy nearly 5,000 security forces and police to protect the 700 Jewish schools in the country, its interior minister said Monday, after last week's deadly terrorist attacks, one of which targeted a kosher supermarket. 
Bernard Cazeneuve said soldiers would also be posted as reinforcements, as he addressed parents of a Jewish school to the south of Paris, near where an Islamist gunmen shot dead a policewoman on Thursday, one of 17 people killed in a three-day bloodbath. Four of those murdered were Jewish shoppers at the Hyper Cacher grocery store in Friday afternoon's attack.
It is part of a wider deployment of some 15,000 police and security forces personnel nationwide, to bolster security around "sensitive" sites in the country, in the wake of Islamist attacks that left 17 dead, authorities said Monday.  
Defense Minister Jean-Yves Le Drian said 10,000 soldiers will be called up from Tuesday to protect "sensitive sites in the whole country from tomorrow (Tuesday) evening", given the "scale of threats" on France. That mobilization would be on top of the 5,000 called up to protect Jewish schools.
The announcement comes a day after French President Francois Hollande sought to calm the fears among France's Jewish community, assuring French Jewish leaders the government would do whatever it takes to protect Jewish institutions, even using the military if necessary.
More than 1,000 Fremcj troops are already deployed throughout Paris following the attacks, but the extra 5,000 are the first such major deployment specifically to protect the country's 600,000-strong Jewish community, which has already endured numerous attacks by Islamist terrorists over the past several years.
In 2012 Al Qaeda-linked terrorist Mohammed Mera murdered three children and a rabbi at a Jewish school in Toulouse, and there are fear that schools could once again be targeted in the future.
Security is already high at synagogues, where "policemen with guns drawn" are already stationed following Friday's attack at the Hyper Cacher store in southern Paris.
Synagogues have been frequently targeted by Muslim extremists in France. 
In December, unknown assailants fired several pellets from a high-powered air-gun through the window of a synagogue in Paris. The shots shattered the window, narrowly missing the synagogue's rabbi and his assistant.
Earlier that month, French police arrested five men for threatening to burn down a synagogue.
During the height of anti-Semitic riots last summer, several synagogues were attacked by Muslim mobs, including one incident in which worshippers were trapped inside by a violent mob who attempted to break in. Only the intervention of dozens of Jewish youths, who fought back using chairs and makeshift weapons, succeeded in fending off the attackers until police finally arrived.
Reacting to Friday's bloody attack, European Jewish Congress President Dr. Moshe Cantor insisted European governments including France need to do more to protect their countries' Jewish communities from attack.
"European authorities must give law enforcement officials, intelligence agencies and the judiciary all the tools necessary to win this war that will prevent further violence and bloodshed," he said.
"We don't know how many more attacks the Jewish community can sustain and we call once again to the authorities to do all they can to ensure that Jews can return to normalcy and feel secure on the streets of Paris and across Europe."