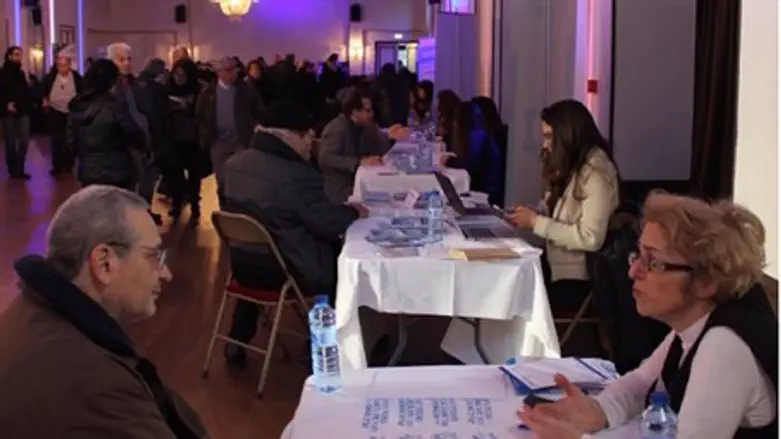 A large crowd waits to meet with Jewish Agency counselors at an Aliyah Fair in Paris Sunda
Eliaou Zenou for The Jewish Agency for Israel
In the wake of Friday's terror attack at a kosher market in Paris,thousands of French Jews have begun making plans to leave the country, many sources in the community say – and hundreds showed up at an Aliyah Fair held by the Jewish Agency Sunday that was held under tight security in central Paris. The fair had been planned in advance of the past week's terror attacks at the Hyper Cacher market and the Charlie Hebdo magazine.
In an interview with Army Radio Sunday, Rabbi Moshe Sabag, spiritual leader of the Great Synagogue of Paris, said that he expected French aliyah – immigration to Israel – double this year. While 2014 set a single-year record for French Jewish immigration to Israel, Rabbi Sabag believes that "14,000 or 15,000 immigrants will come to Israel this year as a result of what has happened. There is a sense of insecurity and that these events are just getting worse."
Israel is prepared to absorb them, said Natan Sharansky, Chairman of the Executive of The Jewish Agency. Sharansky was in Paris, along with Prime Minister Binyamin Netanyahu and other Israeli officials, to attend the mass rally against terror being held in Paris Sunday afternoon. Sharansky popped in on the Fair, telling potential immigrants that "the Jewish Agency embraces the French Jewish community at this difficult time and is extending its full support by helping provide for the physical security of Jewish communities across France, increasing our assistance to any individual who wishes to immigrate to Israel, and working to ease immigrants' integration into the Israeli workforce and Israeli society."
According to The Jewish Agency's figures, 2014 saw a dramatic increase in Aliyah from France with the arrival of 7,000 new immigrants, more than double the 3,400 who arrived in 2013 and triple the 1,900 who came in 2012. The French Jewish community is the largest in Europe and the third-largest in the world (after Israel and the United States), with some 500,000 Jews. More than 1% of the entire community immigrated to Israel over the course of 2014, which saw the arrival of the largest number of French immigrants in Israel's history and was the first time more immigrants came from France than from any other country. Even before the most recent events, Jewish Agency officials had predicted that the increase in French Aliyah would continue and that the number of immigrants from France would reach 10,000 in 2015.
Prime Minister Binyamin Netanyahu also announced Saturday his plans to convene a special ministerial team to discuss ways to encourage immigration of French and other European Jews. In a televised statement, Netanyahu said: "To all the Jews of France, all the Jews of Europe, I would like to say that Israel is not just the place in whose direction you pray, the state of Israel is your home." "Every Jew who wants to come here will be received with open arms. We will help you absorb into our country," he said.