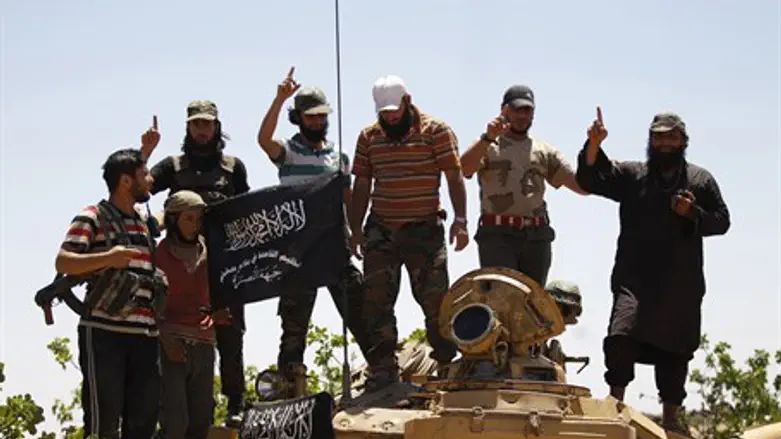 Al-Nusra Front terrorists
Reuters
A suicide bomber blew himself up in a crowded cafe in the neighborhood of Jabal Mohsen in the northern Lebanese city of Tripoli Saturday evening, killing nine people and wounding more than 30, a security source told The Daily Star.
Another suicide bomber blew himself up outside the coffee shop, according to unconfirmed reports.
The Syrian-based Al-Nusra Front claimed responsibility for the "twin blasts" that targeted the Omran cafe in the majority Alawite neighborhood of Jabal Mohsen.
"A suicide operation targeted a cafe [belonging to] the Alawite Arab Democratic Party," the Nusra Front said on its social media pages, according to The Daily Star.
A Lebanese Army statement said the suicide bomber attacked the cafe at around 7:30 p.m. local time and that military police would investigate the bombing. Security forces cordoned off the area and started investigations.
Eyewitnesses quoted by The Daily Start said one of the bombers succeeded in entering the cafe but the second one couldn't and blew himself up outside.
Saturday's explosion is the first serious breach to a security plan implemented in 2014 that ended years of clashes in Tripoli between the mostly Alawite neighborhood of Jabal Mohsen and the mostly Sunni Bab al-Tabbaneh.
Violence from Syria's three-year civil war has spilled over to Lebanon, with bombings in Beirut, fighting in Tripoli, and rocket attacks on Bekaa Valley towns close to the frontier.
Many of the attacks have targeted Hezbollah's strongholds in Lebanon, particularly since the group acknowledged that it is sending fighters into Syria to support President Bashar Al-Assad's troops as they battle rebels.
The Al-Nusra Front has pledged allegiance to Al-Qaeda chief Ayman al-Zawahiri and has been blacklisted by the United States and the United Nations as a terrorist group.
The group has claimed responsibility for several of the bombing attacks in Lebanon over the past several years and has recently begun cooperation with the Islamic State (ISIS) after the two groups continuously fought with one another.