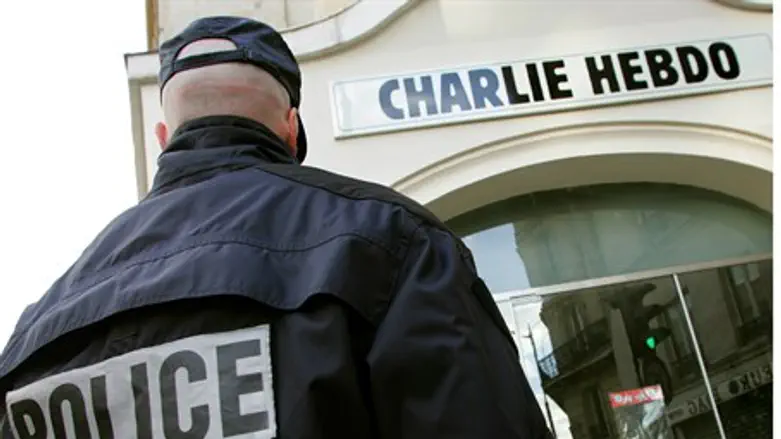 Police in front of Charlie Hebdo's Paris headquarters (file)
Reuters
The main suspects in Wednesday's shooting rampage on the Charlie Hebdo satirical magazine in Paris are on the move, according to Le Figaro - and are currently taking hostages in a business in Dammartin-en-Goele in the Seine et Marne, 25 miles (40 km) from Paris, several kilometers from Roissy airport.
Police are readying to storm the compound, according to the Guardian, citing photos from the scene showing at least 100 officers calmly walking into the industrial compound where the crisis is unfolding. 
Several large military vehicles are also being transported to the site, according to news photographers at the scene, including tanks and jeeps. 
Live footage of the crisis is below, from France24 (in English):
One person has been confirmed to have been taken hostage in the building, according to Paris's town hall spokesman and chief of police. Several people may be wounded; reports vary on whether or not one person is dead.
The French Interior Ministry confirmed just before 12:00 pm IST that the Kouachi brothers, the two suspects at large for the Charlie Hebdo rampage, are inside. 
French Interior Minister Bernard Cazeneuve has confirmed that a major operation is underway to apprehend the shooters and that police helicopters have been deployed. At least three helicopters are at the scene; two are French military helicopters.
Special forces have also been spotted on surrounding rooftops, according to AFP. 
Meanwhile, three elementary schools in the area have ordered their students to stay inside their classrooms as the siege is underway, according to France Info. 
Le Figaro has now released a photo of where the hostage crisis is unfolding - a printing business, according to AFP.  
Flights are now being diverted from Paris's Charles De Gaulle airport as well, according to France 24, due to the hostage crisis.
Analysts on the news agency state that the hostage situation is likely a "desperate move" and was "unplanned" due to the fact that the building is not a major public center. 
Negotiations have reportedly begun between senior policemen and the suspects, as of 11:30 am IST. Both suspects have told police that they want to die as 'martyrs,' a French MP has said, according to CNN.  
The entire town of Dammartin-en-Goele has been cordoned off and multiple local media sources say that cell phone coverage has been jammed. 
In addition, police have now announced a connection between the Charlie Hebdo attack and Thursday morning's shooting of a policewoman in Montrouge. 
Three-day manhunt
Earlier, the suspects hijacked a grey Peugeot after abandoning a different car, a hijacked Renault, which ran out of gasoline en route during their run from the law. 
Twelve people were killed in Wednesday's jihadist attack on the French satirical magazine Charlie Hebdo - five cartoonists, three contributors, a guest at the magazine's editorial conference and a maintenance worker, along with two police officers.
Three suspects have been named in the attack. Eighteen-year-old Hamyd Mourad voluntarily handed himself over to authorities on Wednesday night; brothers Said and Cherif Kouachi are still at large and taking hostages at the business Friday morning.
Both brothers stated to cartoonist Corrine Rey before the shooting that they were working on behalf of Al-Qaeda in Yemen and Iraq. 
80,000 police officers have been involved in the manhunt thus far, according to CNN. 
The families of the Charlie Hebdo victims are being kept informed throughout the manhunt, according to French news sources. 
"We are living our kind of 9/11," the Deputy Mayor of Paris,  Patrick Klugman, told Sky News. "As soon as this attack [happened] Paris citizens came together to show were are not afraid, we are Charlie Hebdo."