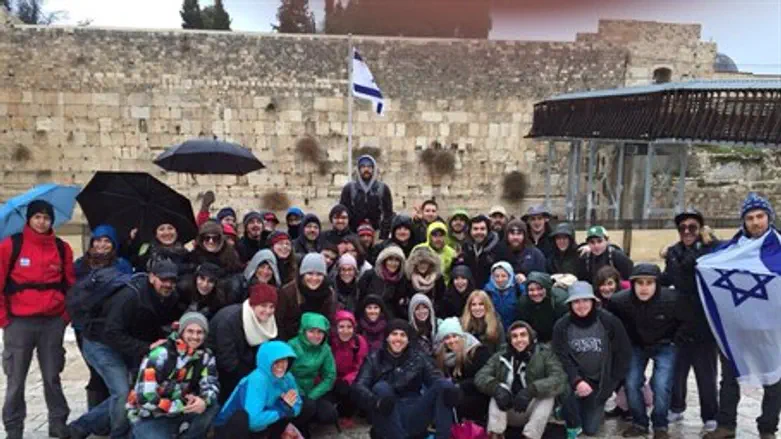 Taglit participants at Kotel
Yoav Brook
Roads are closed and cities are on lockdown in Israel due to a raging winter snowstorm - but that wasn't enough to stop over 400 enthusiastic Taglit-Birthright Israel participants from braving the snow to visit Jerusalem on Thursday night.
Wrapped in their winter gear the participants visited Jerusalem's Old City, where they saw the sights of the Jewish Quarter in a visit capped by seeing a snow-draped Western Wall, the last remaining wall of the Second Temple.
The group is to see other iconic landmarks in the Holy Land during their ten-day trip, including the Dead Sea and Masada, the Yad Vashem Holocaust memorial museum and more.
"This is my first time visiting Israel and I was lucky enough to see Jerusalem covered in white," said 23-year-old Jessica North from Florida. "I expected warm weather and desert-like landscapes but I was pleasantly surprised by the Israeli winter."
Gidi Mark, CEO of Taglit-Birthright Israel, noted the participants "were not afraid to travel to Israel despite the current weather conditions."
Noting on the road closures and snow in the capital, he added "we intended to alter the itinerary and avoid Jerusalem but ended up following the program as planned. We are prepared to continue our efforts to bring young Jewish adults to Israel under any circumstances."