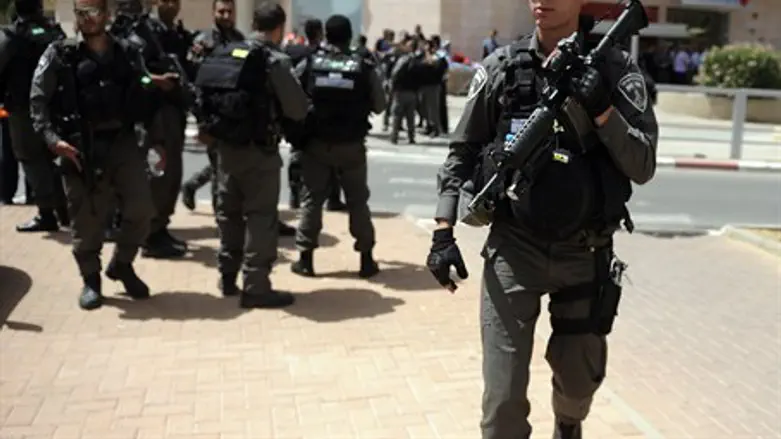 Border Patrol officers (illustration)
David Buimovitch/Flash 90
On patrol Wednesday afternoon along Road 443 as part of the preparations for the "big storm," Border Patrol officers noticed, through the snow-fogged windshields of their vehicle, a strange sight – with an individual bounding down the road without a jacket.
It's rare for an individual to be walking on Road 443, a main artery that connects Jerusalem and Tel Aviv, and it's even more rare – unheard of, in fact – to find such a person walking in the heavy snow that was falling Wednesday afternoon in the area.
The officers stopped the individual to determine if he needed help – and discovered that he was a Ukranian Christian pilgrim who was visiting several Christian sites while on a visit to Israel. The tourist had been visiting such a site when he was "mugged" by an Arab, who absconded with all his money, as well as with his vehicle.
The tourist had begun walking towards the highway, with the intention of reaching an IDF checkpoint along the road, and then getting a ride to Ben Gurion Airport. As the church he had been visiting was located several kilometers north of the highway, the tourist told officers that he had been walking for several hours before being picked up.
The patrol took him into their vehicle, gave him something warm to drink, and brought him to an IDF patrol area, where soldiers indeed gave him a ride to the airport, his original destination.