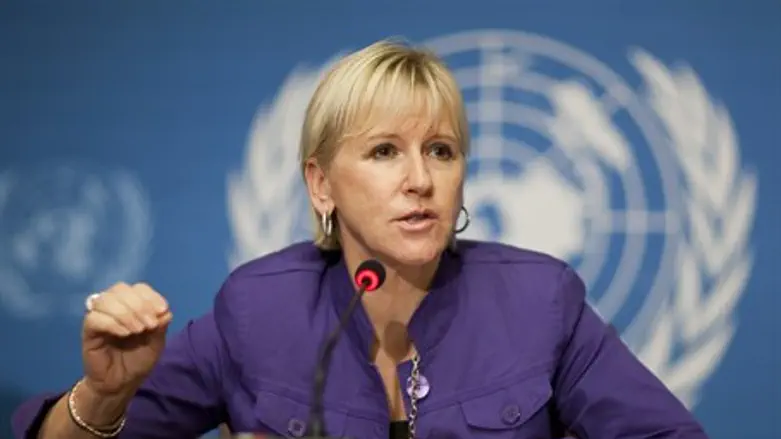 Swedish Foreign Minister Margot Wallstrom
Reuters
Swedish Foreign Minister Margot Wallstrom has indefinitely postponed a planned trip to Israel, a spokesman said Wednesday, as the diplomatic fallout continues following Sweden's official recognition of the Palestinian Authority (PA) as the "state of Palestine" last October.
"The foreign minister has decided to postpone her visit to Israel and Palestine. Instead of next week it will take place later. No date is yet
decided," Margot Wallstrom's spokesman Erik Boman told AFP.
Israel recalled its ambassador to Stockholm in response to the recognition move, agreeing to return the ambassador a month later.
Wallstrom's scheduled visit had not been officially announced, but Foreign Minister Avigdor Liberman (Yisrael Beytenu) already stated he would refuse to meet her when she came in protest of the recognition.
The announcement of Sweden's recognition of "Palestine" in late October saw withering verbal jabs about IKEA furniture between Liberman and Wallstrom, as well as Swedish financial institutions boycotting Israeli companies.
According to Swedish media, the main purpose of the trip had been to honor the memory of Raoul Wallenberg, the Swedish diplomat who saved tens of thousands of Budapest Jews from being sent to Nazi concentration camps by issuing them Swedish papers in 1944-1945.
Even as Sweden presses ahead with its diplomatic push favoring the PA, the European state has recently seen a spate of arson attacks on mosques as tensions rise with residents coping with an ever growing Muslim population.
AFP contributed to this report.