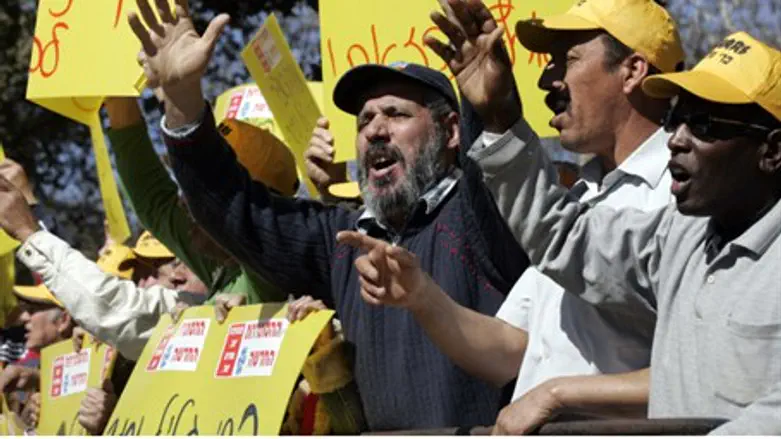 Pri Galil workers rally (archive)
Flash 90
Pri Galil factory workers have been barricading themselves inside the food plant in northern Israel since Saturday night. 
The Hatzor Haglilit plant, which has been closed since Wednesday following a dispute between the owners and the Economic Ministry, will remain shuttered Sunday, the owners announced Saturday. 
The Economy Ministry claims Pri Galil - in which Hatzi Hinam supermarket owners, Zaki Shalom and Mordechai Kuperly, have a stake - failed to abide by conditions imposed on them in connection to the ministry's grant of NIS 9 million ($2.3 million) two and half years ago. 
Co-owner Oshik Efraim responded by declaring the ministry's claim "nonsense."
The owners' decision to keep the plant closed comes even in spite of a special permit issued by Internal Security Minister Yitzhak Aharonovich, allowing Pri Galil's factory to continue operations by granting them a four-month extension to arrange their business license. 
As a result of the continued closure, the Pri Galil factory's workers' committee vowed Saturday night that a group of employees would hole themselves up inside the factory. 
The employees barricading themselves issued an announcement Sunday, stating their intentions to remain inside the factory until further notice. They will also not permit removal of goods from the factory until the owners allow the resumption of daily work activity. 
On Sunday, a truck arrived to load produce from the factory, but it was blocked from entering by the employees, and was forced to turn back sans product. 
The workers demand not to be treated like pawns by the management, who, they claim, often take advantage of their works. 
Shimon Suissa, Hatzor Haglilit Regional Council head, said Saturday night that, "after the efforts we undertook to ensure three more months of operation, I expected the owners to reopen the factory as normal." 
"I was disappointed to hear that the owners continue to prevent their workers from working. I absolutely do not agree with letting employees become the pawns of their owners, and I demand the plant be opened immediately." 
The Histadrut labor union made a similar response, declaring that the "workers of Pri Galil are not pawns in the hands of the management or any other body. Open the plant instantly and restore respect to the workers, whose only crime is their desire to make a decent living." 
Pri Galil co-owner Efraim, meanwhile, expressed hope that the government will take some time to deal with the issue Monday morning.