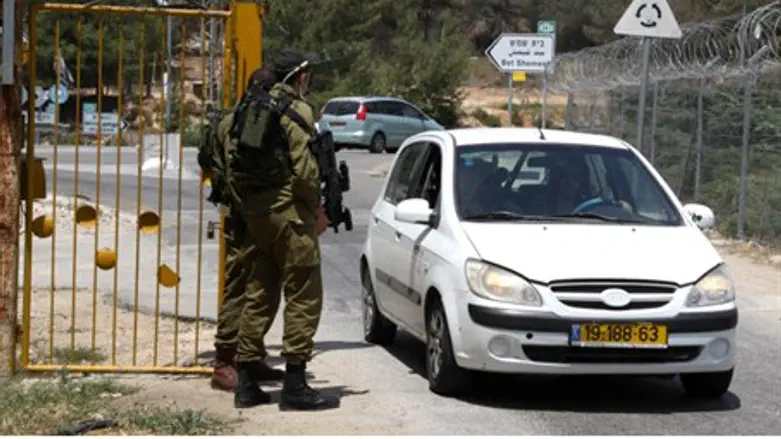 Soldiers guard Samaria community (illustration)
Flash 90
Acting Head of the Samaria Regional Council, Yossi Dagan, has filed a request to the Minister of the Interior Gilad Erdan demanding he immediately expel the American Consulate staff members who entered the Samaria village of Adei Ad Friday and threatened Israeli Jews with an M-16. 
"As revealed through Wikileaks few years ago, these supposed 'officials' are intelligence agents and spies in every respect," said Dagan, adding "this time, they went too far and participated in a provocative tour with the Palestinians in the southern Samaria and north Binyamin, without any coordination as required with the IDF and police, and pulled out a firearm and threatened Israeli civilians."
"This is a crossing of all red lines," he continued. "This event could have descended easily into bloodshed and only as a result of the settlers' responsible behavior was [a scenario like that] prevented."  
"I request that in view of the serious and criminal conduct, that these [US] security guards and officials be deported," he added. 
"If Israeli intelligence officials and armed Israeli security guards stationed in one of the Israeli consulates in the United States had participated in a political provocation without any coordination with the police and threatened American citizens with weapons, at best, they would be arrested and deported, and the more likely case would be them spending several years in federal prison."
It is unclear exactly what prompted the incident at Adei Ad Friday, but reports say that several consulate officials arrived with armed guards at the community to investigate Palestinian Arabs' claims of vandalism of a nearby olive orchard. 
An argument erupted between the convoy and the community's security guards, as all official visits to Jewish communities in Judea-Samaria must be coordinated with the IDF and police - a protocol the consulate allegedly ignored. At least one of the American guards allegedly pulled out his handgun and M-16 during the course of the argument.