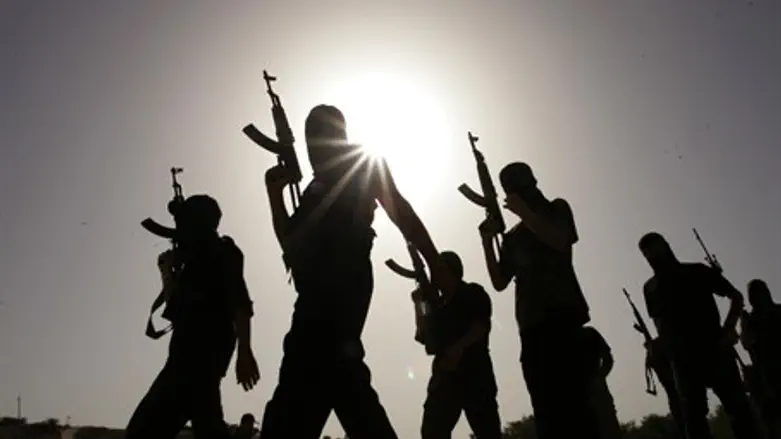 Terrorists marching (illustration)
Flash 90
Fifteen armed and masked gunmen in central Libya abducted 13 Coptic Christians on Saturday, according to a priest and an eyewitness, several days after seven more were abducted from the same area. 
The abductors, who had a list of the full names of their victims, went from room to room in the Christians' residence in Sirte at about 2:30 am, the eyewitness told the Associated Press, and abducted the Christians after asking for identification papers to prove they were Muslim. 
Abu Makar, a Coptic priest in the workers' hometown of Samalout in southern Egypt, confirmed the abduction and added that seven others had been abducted days earlier as they tried to escape Sirte. 
Recently, a Coptic Christian couple and their daughter were also killed in Sirte, which has become the stronghold for the Islamist Ansar al-Sharia group. More than three years after the fall of Qaddafi, independent militias still control large part of the North African country and regularly fight each other. Terrorist groups have taken advantage of the situation and are training fighters on Libyan soil.
Egypt's Foreign Ministry stated that it is following up on the reports and urged all Egyptian citizens to stay indoors until a safe means of rescue can be established. Sending a diplomatic mission is not an option, it said, because of the anarchy and chaos in Libya, where many regions are outside state control. 
Egypt evacuated its embassy in Tripoli and consulate in Benghazi last year after kidnappers seized Egypt's cultural attaché and three other embassy diplomats.
It is believed that the kidnappings were a response to the arrest in Egypt of Shaaban Hadiya, a prominent former rebel commander who fought in the uprising against Muammar Qaddafi in 2011.