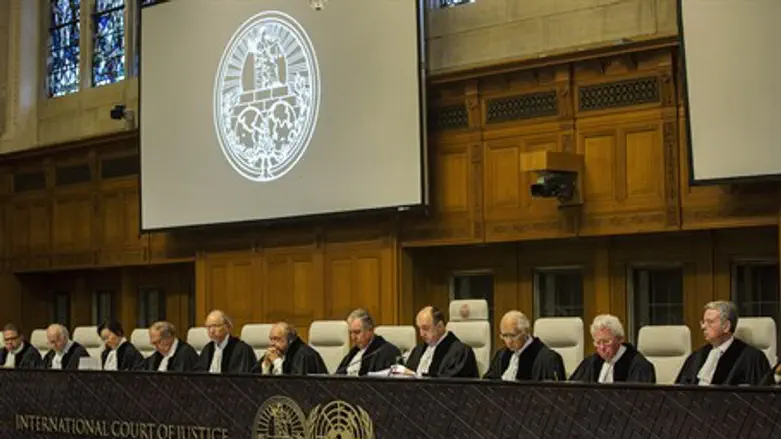 The Hague
Reuters
The Palestinian Authority (PA) has already instructed its representative in the International Criminal Court (ICC) to file charges against Israel for "war crimes," Arab media reports Friday.
According to the Asharq Al-Awsat newspaper, the PA is readying the charges, which will focus on complaints Palestinian Arabs have alleged against the IDF and against Jewish residents of Judea and Samaria. 
Hamas has also reportedly backed the move, according to "Palestinian sources," and is allegedly ready to face the possibility that Israel will file its own charges against Gaza for terrorism and the rain of rockets fired on the Jewish state over the past several years. 
The PA signed the Rome Statue on Wednesday advancing a push to sue Israel for "war crimes" at the ICC, but it is unclear whether or not it actually has the authority yet to file such complaints. 
Even if the PA files the charges, legal rights experts say that having the ICC enter the fray of the Israeli-Arab conflict will ultimately harm the PA, Hamas, and the ICC itself - not Israel. 
In a recent interview, the PA's envoy to the United Nations Human Rights Council (UNHRC) admitted the PA has no hope of pressing charges against Israel in international courts - because Palestinian Arab terrorist groups are far worse violators of international law themselves.
The PA's ruling terror organization, the Palestine Liberation Organization, along with the PA already face criminal charges being levied against it in the US court system for terror attacks it committed during the early 2000s. 
The desperate move follows the PA exhausting other international means of prosecuting Israel, after its draft resolution calling for Israel to withdraw from Judea, Samaria and eastern Jerusalem failed in a UN Security Council vote Tuesday night. 
Hamas's support is also suspect in the report, as statements regarding its support for, or opposition to, several of the PA's unilateral moves against Israel on the international front have varied wildly from outlet to outlet.
On Thursday, a Hamas representative stated that the PA had "no authority" to file charges against Israel in the ICC, despite earlier reports claiming that Hamas had praised the move as a "step in the right direction."