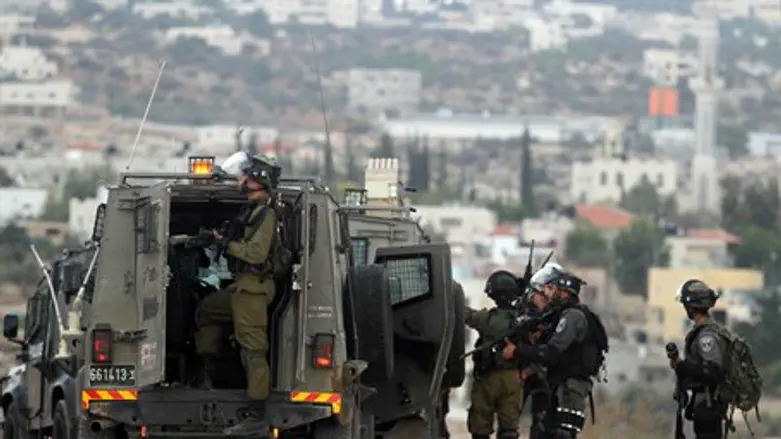 IDF and Border Guard patrol (illustration)
Flash 90
IDF soldiers were forced to open fire after a suspected improvised explosive device was thrown at soldiers from a car driving past Beit Ummar, a spokesperson told AFP Tuesday, seriously wounding a teenaged Palestinian Arab terrorist.
Family members told the news agency the incident happened as Mohammed Awwad, 17, was traveling in a car with his 19-year-old brother back to their home in Beit Ummar, between the southern cities of Bethlehem and Hevron.
One or both of the brothers chucked the device at the IDF, the Army stated, and forensics experts were still working on determining the exact nature of the device, which did not explode.
In the interim, both men are being treated in a Hevron hospital with wounds to the head and thigh from the IDF's self-defense measures. The Awwad family claims that the IDF fired on the men unprovoked.
The incident occurs less than 24 hours after the IDF was forced to shoot a Palestinian Arab terrorist to death in Samaria, after he would not desist from hurling large rocks at Israeli motorists at the Tapuah intersection. 
While the IDF clarified that the soldiers conducted the standard procedure to apprehend terrorists - including shouting a warning in Arabic, firing into the air, and finally firing at the lower extremities of the terrorist - IDF sources indicated nonetheless that the soldiers will likely be put under investigation for their actions by the army's Criminal Investigation Division (CID).