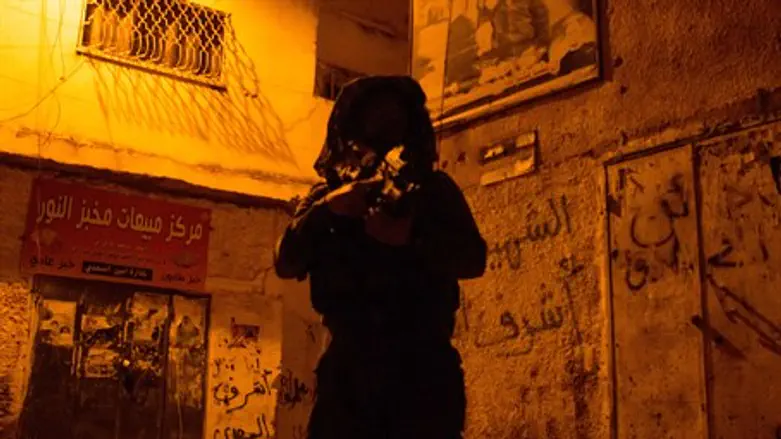 IDF in night operation (file)
IDF SPokesperson/Flash 90
The Israel Security Agency (ISA or Shin Bet) on Saturday night lifted a gag order on the arrest of the terrorists who committed the firebomb attack in Ma'ale Shomron in Samaria last Thursday, in which 11-year-old Ayala Shapira was critically wounded and her father Avner lightly wounded as their car went up in flames.
Several hours after the attack, roughly a dozen young Arab suspects from the nearby town of Kfar Azoun were arrested, according to the ISA report. In investigation, the two terrorists who committed the attack - one of whom was a 16-year-old minor - admitted to doing it.
The IDF on Saturday night released video showing the Duvdevan special forces troops conducting the arrest of the terrorists responsible for the firebomb attack.
According to their confession, the two terrorists left Kfar Azoun towards the road leading from Ma'ale Shomron towards the town El Matan, with a goal of throwing Molotov cocktails at Israeli cars.
The two waited on the side of the road until they saw cars approaching, at which point they lit the firebomb and threw it at one of the cars which happened to be that of the Shapiras, setting it on fire.
The terrorists then fled the scene back to Kfar Azoun, where they were arrested and brought in for ISA investigation the same night.
Dr. Itay Pesah, a senior doctor at the children's ward of the Sheba Medical Center in Tel Hashomer where Ayala Shapira is receiving treatment, announced Saturday night "the girl underwent the first in a series of expected surgeries, to treat her burns and to ensure her airways remain functioning."
"The surgery was successful, and at the moment her condition is stable," continued Dr. Pesah. The public is asked to continue praying for the full recovery of Ayelet bat Rut.
According to IDF figures, in the first nine days of December alone Arab terrorists committed 24 Molotov cocktail attacks, five of them targeting Israeli civilian vehicles and the rest evidently military vehicles or homes.