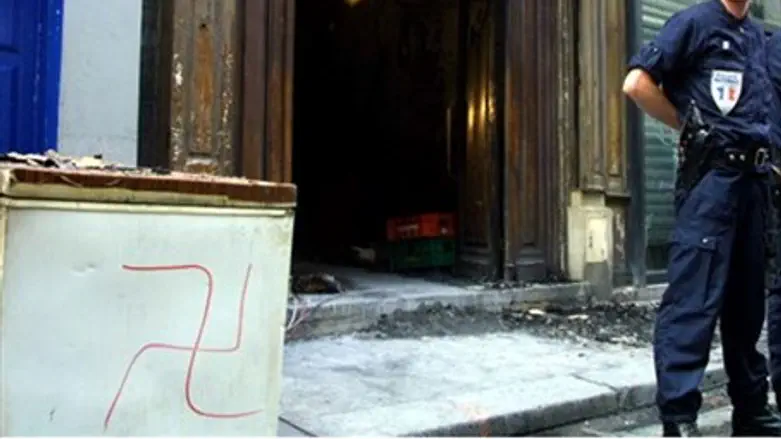 Anti-Semitism in France
Reuters
Just days after fire was opened at a synagogue in Paris, a kosher restaurant in the same city was attacked in a similar manner.
According to the French-language JSSNews, an air gun was fired towards the Al Haeche kosher restaurant in the 19th district of the French capital.
The attack took place overnight Tuesday, and the owner of the restaurant discovered a bullet hole in his window on Wednesday morning, around 7:00 a.m.
The damage was minimal and there were no injuries, noted JSSNews, adding that the same type of gun was used in attack earlier this week on the David Ben Ichay synagogue.
The Bureau for National Vigilance Against Anti-Semitism (BNVCA) condemned the incident and added, "We describe it as anti-Semitic because it was deliberately aimed at a kosher restaurant."
The BNVCA noted that the restaurant and the synagogue are located within one kilometer of one another, and that the weapon used in both attacks was an air pistol.
"Regardless of the projectile, the BNVCA considers the intention and gesture to be criminal and anti-Jewish," said the organization.
France has seen a sharp rise in anti-Semitism in recent years, and it flared particularly during this past summer's Operation Protective Edge, with violent protests in Paris. 
In one incident, hundreds of Muslim extremists attacked a major synagogue in Paris, provoking clashes with Jewish youths who rushed to defend the site and worshippers trapped inside.
Earlier this month there was a shocking robbery and rape attack committed against a young Jewish couple in Paris, which has led French politicians to condemn the steep rise of anti-Semitism.
Recent attacks have also targeted non-Jews. On Saturday, knife-wielding Bertrand Nzohabonayo attacked French police in a suburb of Tours while shouting "Allahu Akbar" (Allah is greater), leaving two officers seriously injured before being shot dead.
Then on Sunday, another man also yelled "Allahu Akbar" before ramming his vehicle into dozens of pedestrians in the eastern French city of Dijon. Thirteen people were injured in that incident, but officials brushed it off claiming no link to terrorism. 
The story repeated itself on Monday, when a van rammed into shoppers at a Christmas market in the western city of Nantes, injuring at least ten people. There again, the driver shouted "Allahu Akbar."