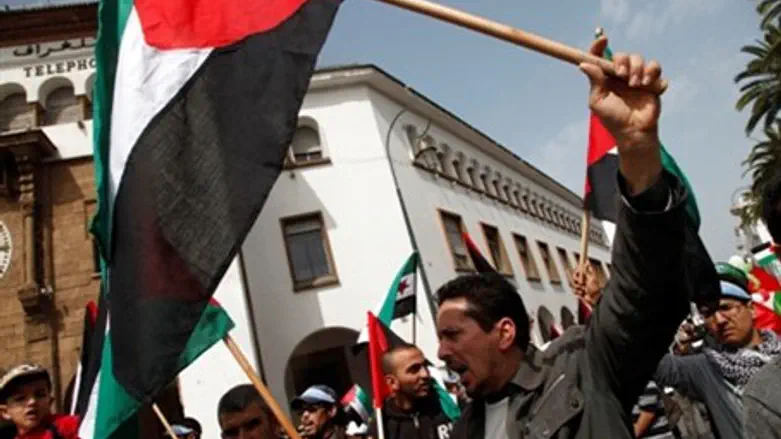 Palestinian Authority flag-wavers
Reuters
The Palestinian Authority and ruling Fatah party have a long history of presenting Israeli cities as belonging to "Palestine." 
In a recent television appearance, Fatah Central Committee member Tawfiq Tirawi continued the trend by claiming that Haifa, Yafo, Acco (Acre), and Nazareth are all part of "Palestine," Palestinian Media Watch (PMW) reported. 
The appearance, on Lebanese TV station Al-Mayadeen, was broadcast on December 14, and later posted to Tirawi's Facebook page. 
Tirawi argued: "Don't you dare think there is even a single Palestinian, whether he supports the two-state solution or another path, who would agree to these settlements being part of Israel, and that Haifa, Yafo and Acco are not Palestinian."  
"No. Haifa, Yafo, Acco and Nazareth are Palestinian, despite the Americans and the Israelis" and their opinion on the matter. 
Tirawi made similar statements in April, when he announced the "goals" and "principles" of the Fatah Movement's planned Palestinian state. 
"Palestine - [the] Gaza [Strip] is part of it; the [West] Bank is part of it; and it is Haifa, Jaffa, Acre, and it is all of Palestine, which will be an independent state for us, Allah willing," he said in a video later posted to his Youtube channel. 
Earlier this year, PMW reported that Tirawi called for "driving out the occupier from the entire pure land, from the [Jordan] River to the [Mediterranean] Sea. 
Those comments were posted to his Facebook page, as well. 
Tirawi's latest statement is almost identical in ideology to a song frequently broadcast by official PA TV and PA TV Live. 
The songs presents as "Palestinian" and "ours" Israeli cities and regions such as Yafo, Acco (Acre), Haifa, Nazareth, the Galilee, the Golan Heights, Lod, Ramle, Jerusalem, Tzfat (Safed), Tiberias and Ashkelon. 
The lyrics to the song are as follows:
"Yafo, Acco, Haifa, and Nazareth are ours. 
[I] Muhammad sing about the Galilee and the Golan. 
Yafo, Acco, Haifa and Nazareth are ours. 
[I] Kabha sing about the Galilee and the Golan. 
From Bethlehem to Jenin is Palestinian, 
Ramle, Lod and Sakhnin are Palestinian. 
Nowhere is more beautiful than Jerusalem; 
no matter how much we travel 
From Safed to Al-Badhan is Palestinian; 
Tiberias and Ashkelon are Palestinian."
Official PA TV originally aired this song on May 13, 2011 and it has since been rebroadcasted dozens of times, most recently two days ago on December 20.