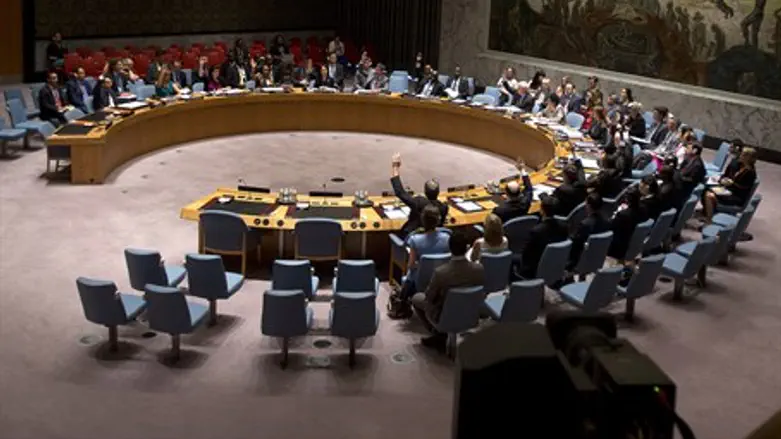 UN Security Council
Reuters
The vote on the Palestinian Authority's (PA) unilateral resolution at the United Nations is likely to be postponed, diplomatic sources told the Walla! Hebrew-language news website on Sunday.
According to the sources, the PA wants to postpone the vote on the resolution because it realized that its current wording is unacceptable to countries such as France and Luxembourg, two countries that the PA had hoped would support the resolution.
The resolution, submitted last Wednesday by Jordan on behalf of the PA, calls for Israel to "end the occupation" - that is, to withdraw from Judea and Samaria - by 2017.
The draft resolution would set a 12-month deadline for wrapping up negotiations on a final settlement and the end of 2017 as the time frame for completing an Israeli withdrawal from Judea and Samaria.
The resolution calls for a "just, lasting and comprehensive peace solution that brings an end to the Israeli occupation" and "fulfills the vision" of a Palestinian state with Jerusalem as the shared capital.
PA leaders now understand, Walla! reported, that the resolution as it is currently worded would not have enough support in the Security Council and in any case the United States is likely to veto it if it passes.
The two key countries, France and Luxembourg, have reservations about the resolution in its current format and feel it is too one-sided, the report said. The sides are now working on a softened version that would be more acceptable.
A Western diplomat involved in the talks on the issue told Walla! that the Palestinians understand that there is a high chance that the United States will veto any resolution no matter its wording, but they want to increase the pressure on the United States by ensuring a solid majority among European countries for their resolution, thus isolating Washington.