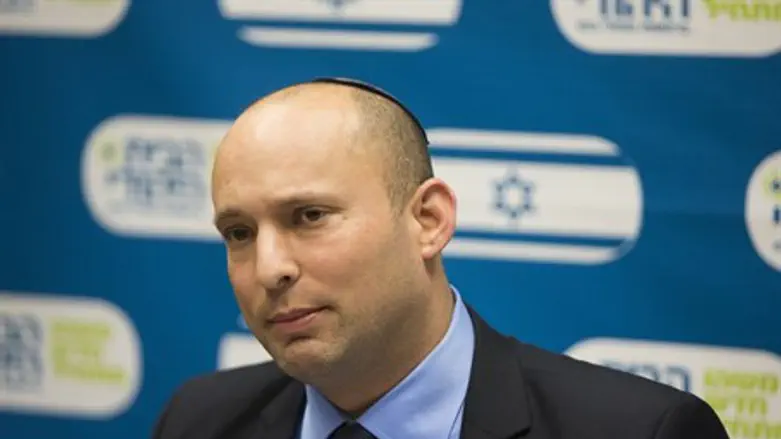 Naftali Bennett
Yonatan Sindel/Flash 90
In a speech at the Herzliya Institute for National Security Studies (INSS) Thursday, Jewish Home leader Naftali Bennett said that he would not apologize for his "no apologies" campaign following criticism of it.
Bennett on Wednesday was slammed by the left for his video in which he portrayed himself as a Tel Aviv "hipster" who apologized for everything he did, regardless of whether or not it was his fault.
Israel's penchant for apologizing for basically existing was a policy that would lead to no good, said Bennett.
"In recent days we have been criticizing Europe for taking Hamas off its terrorist list and recognizing the PA, but perhaps the time has come to stop blaming them and to place the blame on ourselves," he said.
"Our desire to surrender land to our enemies at any price has become a 'card' that is being used by politicians around the world" to attack Israel, Bennett said. "The basic clause is – blame Israel, call us occupiers, complain that we are not surrendering land quickly enough, etc."
Israelis who take on this role, he said, suddenly find themselves "the toast of the town" in European capitals, invited to the best parties, on the list of the "enlightened. All of the sudden you become a 'man of peace' in places where the concept has never applied to them. It is amazing," he said.
Bennett suffered through loud catcalls and insults from the audience while talking but continued anyway.
"I say this clearly: I will not surrender one inch to the Arabs. We must stop apologizing before the world. There has never been a Palestinian state, and if there was, please show us where – where is the flag, who were its leaders, where were its lands? Show us that and you will get a state immediately," said Bennett.
Bennett's national plan, which he proposed prior to the last elections and in several op-eds in American newspapers since, would give the PA a full-autonomy in the vast array of blocs making up Areas A and B in Judea and Samaria, annex Area C and give Arab residents there Israeli citizenship, and remove all security checkpoints in the entire region to give Arab residents full freedom of movement.
It also would give the PA massive financial backing apparently under the assumption that financial motives are driving the conflict, and has drawn fierce criticism, notably from security expert Martin Sherman, head of the Israel Institute of Strategic Studies.