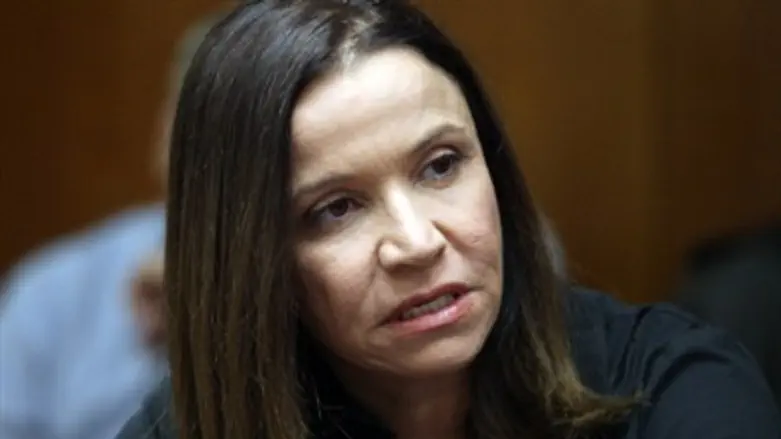 MK Shelly Yehimovich
Israel news photo: Flash 90
Following Tuesday's publication of a startling report by the National Insurance Institute on poverty and social gaps in Israel, MK Shelly Yehimovich (Labor) who formerly served as her party's head quickly responded by blaming Prime Minister Binyamin Netanyahu's policies. 
Although the report notes that the percentage of poor families declined from 19.4% in 2012 to 18.6% in 2013, 1.66 million citizens of Israel continue to live below the poverty line. Of that number, 756,900 are children.  
Israel's poverty line was defined in 2013 as 2,989 shekels ($750) a month for an individual and 7,653 shekels ($1,900) a month for a family of four. 
"Poverty is not an act of fate, it is not a natural disaster, this is a direct result of government policy," Yehimovich said on a Channel 10 News morning show Wednesday. 
"Israel's employment rate is high, much higher than the unemployment rate. The problem here is not that people do not work. The problem is that people are working from morning to night and saving almost nothing," she added. 
"Netanyahu began implementing his views in 2003 when he served as Minister of Finance. He really believed in his actions then. Today, too, he really believes that if the rich get more and more, sometime, someday, it will seep down into the middle class. It's just not true," Yehimovich stressed. 
Yehimovich also discussed the minimum wage in Israel and the possibility of it being raised from 4,300 to 5,000 shekels a month in gradual steps implemented over three stages ending in January 2017.
"I don't want to mention the number [I have in mind], because it's part of a campaign slogan, but raising the minimum wage is the first and most urgent thing that needs to be done here, but they still don't want to do it," the MK stated. 
"After all, when the government wants to add six billion shekels to the defense budget, it makes the decision on the basis of one background (consideration)," Yehimovich argued. 
"Have any of these decision makers ever tried to live with a salary of 6,000 shekels a month? Can anyone live with a salary like that?" 
Yehimovich, well-known for her more socialist approach to economic policy, has criticized Netanyahu as well as other Knesset members in the past for their perceived lack of understanding about the greater public's financial situation. 
In a 2013 Knesset speech, Yehimovich slammed the "fat, satisfied, and wealthy leadership, that perhaps is physically 'one of the people,' but does not understand those people."
"You four - Netanyahu, Lapid, Bennett, and Livni," Yehimovich said, "come from connected families, and have never had to fight for your economic survival. Let us tell the truth here, you are all capitalists."