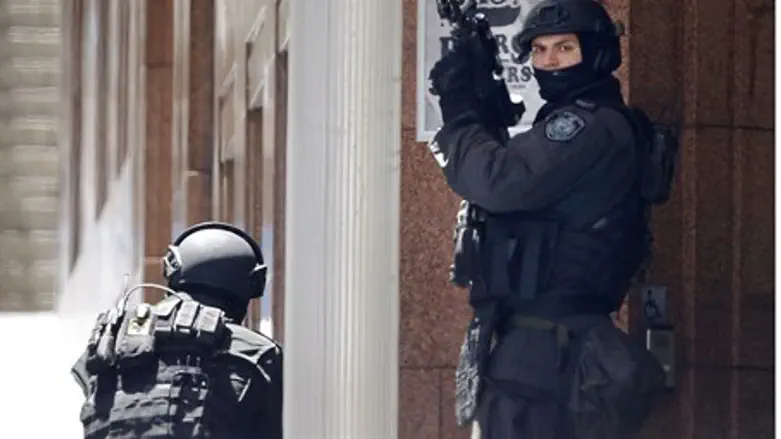 Police surround Sydney cafe where Man Haron Munis took dozens hostage
Reuters
His motives are a mystery and his acts described as random and deranged, but analysts say the gunman who took a Sydney cafe full of terrified people hostage could still score a propaganda coup for jihadists.  
Bearing a black jihadist flag, the Iranian-born Islamist created precisely the sort of lone-wolf attack urged by groups such as the Islamic State - replete with bomb threats, hostages and panic in a major Western city.  
Although any link to a specific group has yet to be established, the explosions and flashes of the dramatic police storming of the cafe that left two hostages and the hostage-taker dead, drove home the increasing reality of the "lone wolf" threat.
The gunman was named in Australian media as an Iranian-born "cleric" called Man Haron Monis, aged 49, who had sent offensive letters to the families of dead Australian soldiers and was out on bail on charges of being an accessory to the murder of his ex-wife.
He was described as a "fringe Islamist" who acted on his own, and while the reasons for his acts remained murky, analysts said IS could take it as a win for their cause.
"The key thing with these attacks isn't to cause lots of casualties, it is to cause a media buzz, get everyone focused on it, everyone talking about it," said Matthew Henman, the head of London-based IHS Jane's Terrorism and Insurgency Centre.
"Every time this sort of thing happens, even if there are no casualties, it is still a propaganda victory for the Islamic State who can say we have people all over the world who are prepared to act in our name."
He said even if the Sydney gunman had not drawn inspiration from IS "they will try and claim (the attack) as some kind of victory for them."  
The web-savvy jihadist group that has seized large parts of Iraq and Syria has sent shivers down spines across the globe with calls for spontaneous attacks on "disbelievers".
This poses a nightmare for Western authorities who already have their hands full trying to prevent nationals from leaving to fight alongside IS and tracking them when they return.  
"Islamic terrorism has now become totally decentralized," said Steven Emerson of the US-based Investigative Project on Terrorism.  
Islamic State spokesman Abu Muhammad al-Adnani in September singled out Australia, along with France, Canada and America in his rallying call to kill "disbelievers... including the citizens of the countries that entered into a coalition against the Islamic State."  
'Attention-grabbing'
Henman said there had been a "considerable increase" in lone-wolf attacks around the world in the past year coinciding with the IS group's reign of terror in its new so-called caliphate.
"They have realised all they need to do is something which is attention-grabbing, whether it's running someone down with a car, attacking someone with a knife, which maybe isn't going to cause high casualties but is seen to be doing something," he told AFP.
In May this year a Frenchman who had spent more than a year fighting alongside Islamist extremists in Syria was arrested for killing four people at the Brussels Jewish Museum.
In September Australia foiled a plot by IS jihadists to carry out random beheadings in the country and saw a suspected militant shot dead after he stabbed two policemen.
October saw the first successful jihadist attacks on Canadian soil - including the storming of its parliament - which resulted in the deaths of two unarmed soldiers.
The idea of individual jihad is not new. 
Islamist Palestinian groups such as Hamas and Islamic Jihad have long encouraged such random acts of violence against Israelis, most recently illustrated in a deadly spate of attacks over the past several weeks and months.
Al Qaeda as well has for years called on recruits and volunteers to go it alone without specific orders or training.
Online jihadist magazines have published recipe upon recipe for homemade bomb-making - "how to make one in your mother's kitchen" being one of them - as well as lists of prime targets.
"ISIS has copied that same play book in calling for local attacks," said Emerson, using an alternative name for the group.
"These attacks are happening all over the world now especially fueled beyond the Internet by the rise of social media which has pushed the message of Islamic terrorism virtually as fast as the speed of light."
AFP contributed to this report.