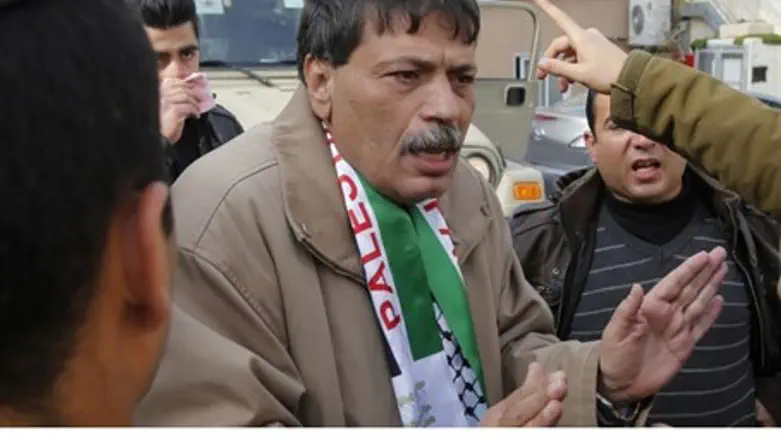 Ziad Abu Ein in previous clash.
Reuters
The IDF has been cleared of accusations of irresponsibility in the death of convicted terrorist and Palestinian Authority (PA) official Ziad Abu Ein, a Border Police official leaked to Channel 10 News Monday.
Abu Ein, 55, a convicted terrorist who previously held the post of PA Deputy Minister of Prisoners' Affairs, died Wednesday of a heart attack during riots against the IDF. 
Abu Ein was handed a life sentence in Israel in 1982 after being extradited from the US in 1981 over the murder of two Israelis in Tiberias in 1979. Abu Ein planted the explosives which killed the two - Boaz Lahav and David Lankri.
But he never served his life sentence over the callous murders. He was released in the Ahmed Jibril prisoner swap deal in 1985, just three years later.
Arab media claimed Abu Ein died after being "beaten" by IDF soldiers, but footage from the event proves that he remained untouched during his heart attack and that he refused IDF assistance that could have been life-saving.
An autopsy conducted by a trilateral Israel-PA-Jordan committee of pathologists confirmed Thursday that Abu Ein - who suffered from multiple health conditions - indeed died from a heart attack.
The conclusion of Monday's investigation is not the last inquiry into the incident, and the news outlet stressed that this is merely the first investigation and that the conclusion is being treated as an internal affair. 
The report found unequivocally that Abu Ein provoked IDF officers - taunting them and cursing them to their faces - before rejecting medical assistance that could have saved his life. 
Despite this, the full IDF investigation has yet to be published. The head of the Central Command, Nitzan Alon, will announce the full conclusions of internal reviews in the upcoming weeks.