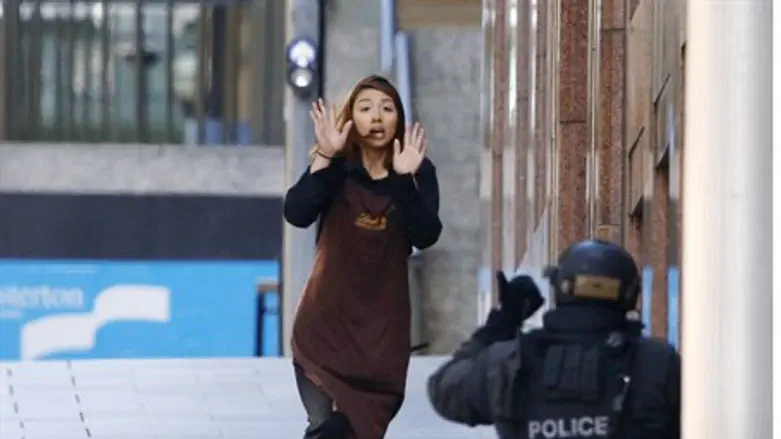 Hostage runs from Lindt cafe, Sydney
Reuters
Police Commissioner Andrew Scipione and New South Wales premier Mike Baird were scheduled to hold a press conference Monday night (5:00 am Tuesday local time; 8:00 pm IST), where they were to clarify the details of a dramatic standoff between security officials and an Islamist gunman during an hours-long hostage crisis at a Sydney cafe. 
It has now been confirmed that the gunman, Man Haron Monis, is dead; two other people - a 34 year-old man and a 38 year-old woman - were fatally wounded in the raid.
Four additional people have been injured. Of those, two women have "non-life-threatening injuries"; one woman has a gunshot wound to her shoulder; and a male police officer suffered moderate wounds to his face from gunshot pellets. 
"In the past 24 hours this city has been shaken by a tragedy we never could have imagined," NSW premier Mike Baird stated. 
"Our first thoughts and prayers this morning are with the innocent victims of this horrendous, vicious attack," he continued. "Everyone in New South Wales stands beside you. They stand beside you today, they stand beside you tomorrow, they stand beside you forever." 
Baird then paid tribute to the New South Wales police before addressing the public. 
"We are a peaceful, harmonious society that is the envy of the world," he added. "Today, we must come together like never before. We are stronger together. We will get through this. We will get through this." 
Police Commissioner Andrew Scipione called the hostage a "critical incident." 
"We need to actually find out what's happened here and what's happened inside that cafe," he said. "It's not time to speculate or to develop theories. We are going to work through facts and we will advise you as soon as we can."
The Commissioner empathized at length with the hostages, and said "we should reflect on that courage [. . .] our hearts go out to them."
"To the people of Sydney: this was an isolated incident," he continued. "This will not change our lives. This will not change the values we hold dear." 
"This was an act of an individual," he confirmed. 
He added that they have confirmed that there were 17 hostages - far less than initially reported - and that of those, two are deceased and six were unharmed. The remainder were wounded. 
He also confirmed that the gunman is dead and that a police officer has suffered wounds to the face. 
During Question-and-Answer, Scipone detailed that the decision was made out of consideration for others' lives, and that "more lives would have been lost" if the police had not entered. In addition, the NSW police did not know that there had been injuries until after the raid. 
Moreover, he assured that the gunman shot first, to the best of his knowledge. 
Until then, he said, "when it's accurate, and only when it's accurate, will we release," emphasizing that he has refused "to give information for the sake of giving information." 
"Fringe of the fringe"
Earlier Monday, police identified "hate sheikh"Man Haron Monis, 49, as the gunman responsible for spinning the peaceful city into terror after he held a yet-unknown number of people hostage in the Lindt Chocolat Cafe. 
Several eyewitness accounts say that Monis was acting erratically just before the siege, and one man told the Telegraph that he had bumped into the cleric in the street minutes before he stormed the cafe, and that Monis had turned to him and asked, "do you want me to shoot you, too?"
During the standoff, Monis, who has a long criminal record, reportedly demanded to speak to Prime Minister Tony Abbott and to be given an ISIS flag during the standoff, which unfolded on live television as terrified hostages held an extremist Islamist flag up to the cafe's windows hours into the crisis.
Reports have also surfaced that he made statements intimating that several bombs had been placed around the city.
The standoff, which lasted approximately sixteen hours, ended dramatically Monday night after several hostages ran free of the cafe' into the waiting arms of police. The escape, eyewitnesses told CNN, "extremely agitated" the gunman, who began screaming and firing gunshots, evoking a police response. 
After a series of loud bangs, broken windows, and some gunfire, police stormed the cafe' at approximately 2:00 am local time, releasing many (if not all) of the hostages. A bomb disposal robot has also been sent into the building, according to the Guardian. 
Initial reports indicate that at least four people were wounded and two are dead in the standoff, including Monis. The injured have been taken to several local hospitals, and reporters from various news outlets at the scene have noted that police are heavily protecting both the identities of the injured and the ambulance itself. 
Meanwhile, NSW police have announced before the conference that the "exclusion zone," a several-block radius around Martin Place in downtown Sydney, will remain in effect Tuesday morning and have advised locals not to leave their homes if possible until further notice. 
Muslim authorities, meanwhile, have rushed to distance themselves from the attack, emphatically condemning the hostage crisis. One expert, speaking to ABC, called Monis a "fringe of the fringe" and a "clown." 
Analysts have stated throughout live news coverage since Monis's identity was revealed that they believe this was a "lone wolf" attack, with a few even intimating that it was fueled by "poor treatment" Monis received in prison.