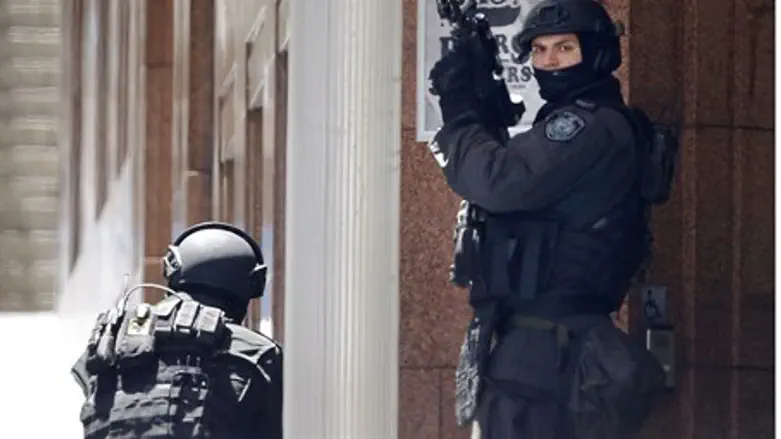 Police officers position themselves at a corner near Lindt cafe in Martin Place, where hos
Reuters
Police have made contact with the Islamist gunman holding dozens of people hostage at a cafe in Sydney, Australia, according to reports.
Police spokeswoman Catherine Burn said negotiators "have had contact and continue to have contact" with the hostage-taker.
"Those people are now being assessed to make sure their health is okay and then police will talk to them," she said.
"Our approach is to resolve this peacefully. It might take a bit of time but that is our priority."
Hundreds of police are engaged in a tense standoff with with the terrorist, who has taken around 40 people hostage at the Lindt Chocolat Cafe in central Sydney.
New South Wales (NSW) police confirmed that around 4 p.m. local time three of the hostages reportedly managed to escape from a side door in the cafe under cover of the police, and at least one of them was an employee of the store.
Shortly afterwards two more female hostages were seen escaping from the cafe, bringing the total number of escaped hostages to five. Security forces reportedly were in contact with the hostage-taker and evidently negotiating for the peaceful resolution of the standoff.
The terrorist has asked asked to present his demands and explain his motives, but local Australian media has refused to put him on air after police requested them to do so, urging that his contact be with them.
"I would like to give you as much as I can but right now that is as much as I can," NSW state police Commissioner Andrew Scipione said after giving the general details of the case. "First and foremost, we have to make sure we do nothing that could in any way jeopardize those still in the building. Our only goal tonight and for as long as this takes is to get those people that are currently caught in that building out of there safely"
Reporter Chris Reason was quoted by Associated Press from a vantage point opposite the cafe saying that "the gunman got extremely agitated as he realized those five had got out. He started screaming orders at the people, the hostages who remain behind."
Reason later added that the staff were seen bringing food from a kitchen at the back of the cafe to feed the hostages.
Part of Martin Place, home to the Reserve Bank of Australia, commercial banks and close to the New South Wales (NSW) state parliament, was closed off by armed police.
Other high-profile sites and landmarks, including the iconic Sydney Opera House, have also been evacuated.
Orders were given for workers in the area to stay home on Tuesday, indicating that the standoff could take at least another day to resolve.
A Lindt Australia executive told Sky Business there were about 10 staff working at the cafe, and that there were "probably 30 customers" present.
Pictures from the scene show several terrified hostages standing with their hands in the air next to the cafe's windows.
PM Abbott released a recorded statement in past few minutes on the "very disturbing incident".
He said it was "profoundly shocking" that people were being "held hostage by an armed person claiming political motivation".
"Our thoughts and prayers must above all go out to the individuals who are caught up in this. I can think of nothing more distressing, more terrifying than being caught up in such a situation, and our hearts go out to those people," he said.
Abbott sought to assure Australians and urged them not to allow the incident to disrupt their daily lives.
"We have to appreciate that even in a society such as ours there are people who wish to do us harm. That's why we have police and security organizations of the utmost professionalism who are ready and able to respond to a whole range of situations and contingencies, including the situation that we are now seeing in Sydney...
"The whole point of politically-motivated violence is to scare people out of being themselves. Australia is a peaceful open and generous society - nothing should ever change that, and that's why I would urge all Australians today to go about their business as usual."
Despite that, Jewish institutions and school have been closed as a security precaution throughout the country, according to The Australian Jewish News.
Australia, which is backing the United States and its escalating action against the ISIS, is on high alert for attacks by radicalized Muslims or by home-grown fighters returning from fighting in the Middle East.
Live television footage showed an estimated 13 patrons inside a cafe standing with their hands pressed against the windows. A black and white flag similar to those used by ISIS terrorists in Iraq and Syria was also visible.
But the flag, emblazoned with white Arabic text reading "There is no God but Allah and Mohammad is the messenger of God," is not that of the so-called Islamic State but a more "generic" Islamic flag of jihad.
Witnesses said that hostages were being forced to hold up the flag at the window.
ISIS terrorism has recently been on the rise in Australia, with police recently arresting 15 terror suspects of an ISIS cell that was planning to behead a random member of the public in a campaign of terror.
credit: Reuters
credit: Reuters
credit: Reuters
credit: Reuters