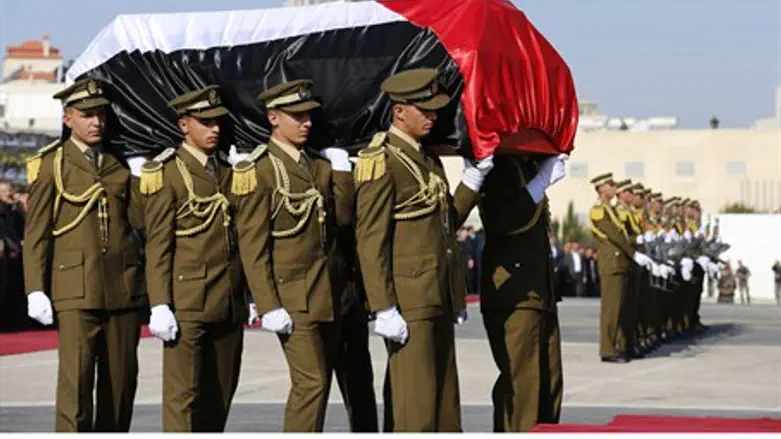 Ziad Abu Ein's coffin in Ramallah
Reuters
Thousands of Palestinians gathered Thursday to mourn a senior official who died in a confrontation with Israeli troops, as the IDF sent reinforcements to Judea-Samaria and braced for unrest.  
The Palestinian Authority leadership blamed Israel for the "killing" of 55-year-old Ziad Abu Ein, as tensions threatened to boil over into another round of violence in the occupied territories.  
Officials and onlookers streamed into the Ramallah headquarters of president Mahmoud Abbas in the late morning, ahead of a planned funeral procession to a nearby cemetery, an AFP correspondent said.
Uniformed Palestinians carried Abu Ein's coffin, draped in a PA flag, into the courtyard, as nationalist songs blared and mourners chanted "Revenge!" and "Your blood will not be spilled in vain!"
Schools were closed in a day of mourning and posters of Abu Ein were plastered on walls throughout the city.
A short distance away, additional Israeli troops and border guards were being deployed in anticipation of clashes with mourners and protesters, an army spokeswoman said, especially given the cemetery's proximity to the Jewish town of Psagot.
Abu Ein died Wednesday after a confrontation with Israeli soldiers during a protest by some 300 Palestinians who intended to plant olive trees in a land-grab outside the village of Turmus Ayya, near Shiloh in Samaria.
Video from the confrontation shows Abu Ein confronting screaming at soldiers, who react by pushing him back. Eventually he turns around and leaves, still shouting, but soon after dropped to the floor. 
Witnesses at the scene confirmed that Palestinians prevented an Israeli army medic from treating him, instead bundling him into a car.
Israel 'fully responsible'
A post-mortem revealed Abu Ein - who had a long history of heart problems and high blood pressure- died from a heart attack. 
"His death was caused by a coronary occlusion, brought on by stress. The stress may have been brought on by him being grabbed by the neck," an Israeli medical source told Reuters on condition of anonymity. 
Preliminary autopsy reports from the Abu Dis Forensics Institute released late Thursday morning reveal that Abu Ein's death was "caused by a blockage of the coronary artery due to hemorrhaging underneath a layer of atherosclerotic plaque." 
"The deceased suffered from ischemic heart disease; blood vessels in his heart were found to be over 80% blocked by plaque. Old scars indicating that he suffered from previous myocardial infarctions were also found," the report continued. 
"The poor condition of the deceased's heart caused him to be more sensitive to stress." 
Nevertheless, Palestinian officials insisted Israel was to blame for the death.
"After hearing the results of the post-mortem, the Palestinian government holds Israel fully responsible for the killing of Ziad Abu Ein," government spokesman Ihab Bseiso told reporters in Ramallah on Thursday.
A PA minister said the post-mortem, which was carried out by a Palestinian, an Israeli and Jordanian doctors, had shown that Abu Ein was killed by the actions of Israeli troops.
"The reason for the death of Abu Ein was his being hit by (Israeli) occupation troops and because of the heavy use of tear gas," Palestinian civil affairs minister Hussein al-Sheikh told AFP.
Sheikh claimed Israeli forces had prevented Abu Ein from getting to a hospital quickly enough to save his life - contradicting the testimony of several witnesses at the scene.
Israel's health ministry said the death was caused by a "blockage of the coronary artery" which "could have been caused by stress", adding that Abu Ein suffered from poor health including heart disease.
The incident prompted Abbas to threaten to cease security cooperation with Israel.
"All options are open for discussion and implementation," Abbas told an emergency session of the Palestinian leadership late Wednesday, amid speculation that crucial security cooperation with Israel could be shelved.
Islamist movement Hamas, rivals of Abbas's administration and de facto rulers of the Gaza Strip, urged the Palestinian Authority (PA) to cease security coordination immediately.  
High tension
Israel's government urged calm, with Defense Minister Moshe Yaalon expressing regret for the death and saying a military inquiry had been launched.  
"Security stability is important for both sides," he said.
Prime Minister Binyamin Netanyahu sent a message through one of his aides to Abbas in which he "pointed to the need to calm the situation and act responsibly," his office said.
The death of Abu Ein was the former PA Minister of Prisoners' Affairs and headed the  PA Committee against the Separation Wall and Settlements. 
He was also a convicted double-murderer, having planted a bomb which killed two Israeli civilians in 1979.