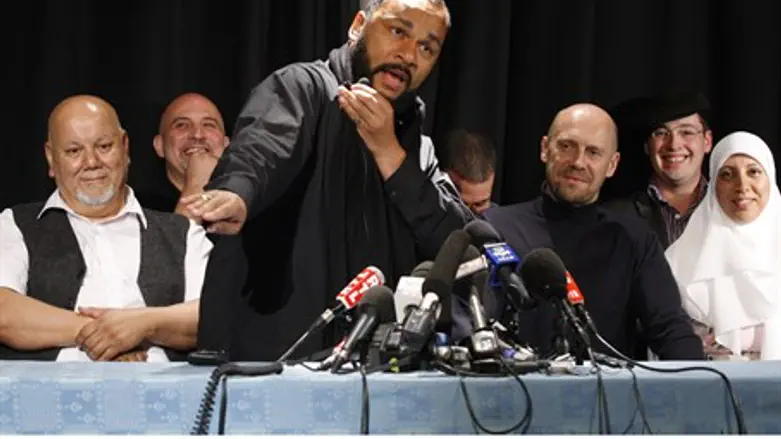 Dieudonne performs the "quenelle" gesture at
Reuters
The umbrella group of French Jewish communities - the Representative Council of French Jewish Institutions (CRIF) condemned 20 theaters in France planning to host the explicitly anti-Semitic show of comedian Dieudonne M'bala M'bala. 
Dieudonne, who denies claims he is a virulent anti-Semite, has been convicted ten times in France for inciting racial hatred against Jews. Public authorities say he owes more than 65,000 euros ($84,000) in fines related to past convictions.  
He intends to take his latest act, titled "The Impure Beast," on the road at the end of this month.
The impetus for writing "The Impure Beast," he claims, was several French mayors banning his previous tour in their municipalities for its "threat to public order." 
Many of the mayors issued the ban at the request of then interior minister Manuel Valls, who is now France's prime minister. 
"The Impure Beast" features many anti-Semitic references, including inappropriate jokes about Ilan Halimi, who Dieudonne has a history of mocking. Halimi was a French Jew who was tortured and murdered in 2006 because of his religion. 
Among his other anti-Semitic accomplishments, Dieudonne is also the inventor of the quenelle gesture - a reverse Nazi salute. It has become extremely popular in anti-Semitic and extremist circles across the French-speaking world and worldwide.
Dieudonne, however, claims it is simply a gesture demonstrating discontent with the establishment. 
He is also the inventor of the term "shoananas" - a mashup of the Hebrew word for the Holocaust and the French word for pineapple - used to suggest the genocide never happened. 
"CRIF deplores the many theaters that chose to offer him a podium to disseminate to an instrumentalized audience his hatred of Jews and of those who dare criticize him," CRIF said in a statement Tuesday.
Dieudonne's six-month long tour is due to begin on December 27 at the Zenith Nantes Metropole, one of the largest performance halls in western France.
CRIF particularly singled out the Fimalac event hall operator, which own Zenith, for criticism. Approximately one-third of Dieudonne's 20 booking are in theaters owned by Fimialac. 
The umbrella organization called on Culture Minister Fleur Pellerin to "remind the firms of their obligations, moral and otherwise."