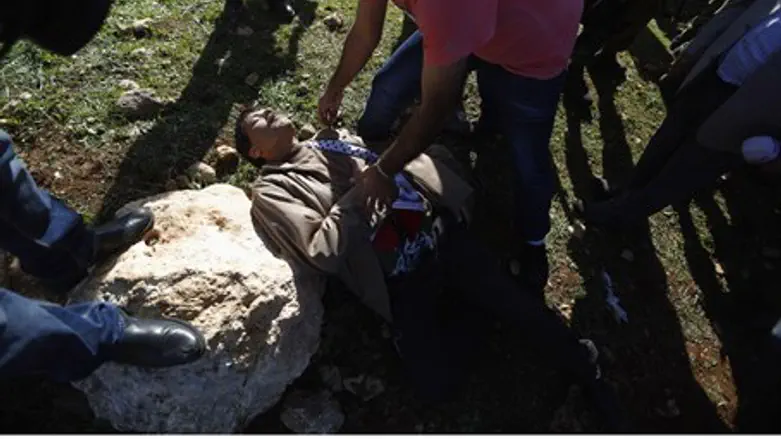 Ziad Abu Ein lies on the ground after clashing with IDF forces
Reuters
Yaron Lahav, the brother of Boaz Lahav, who was murdered along with his friend David Lankri by terrorist Ziad Abu Ein, stated that Abu Ein's death Wednesday is not a "comfort," but an odd "kind of closure." 
Abu Ein, 55, a convicted terrorist who previously held the post of PA Deputy Minister of Prisoners' Affairs, died Wednesday of a heart attack during riots against the IDF. Arab media claims Abu Ein died after being "beaten" by IDF soldiers, but footage from the event proves that he remained untouched during his heart attack - and refused IDF assistance that could have been life-saving. 
He was handed a life sentence in Israel in 1982 after being extradited from the US in 1981 over the murder of two Israelis in Tiberias in 1979. Abu Ein planted the explosives which killed the two - Boaz Lahav and David Lankri.
But he never served his life sentence over the callous murders - he was released in the Ahmed Jibril prisoner swap deal in 1985, just three years later.
Yaron Lahav said today to the Almagor organization for terror victims' families that the death of Abu Ein is not closure, exactly, but "provides a sort of sense of closing the circle." 
"It is shocking to see how our enemies appoint a child killer to serve as their minister and leader," said Lahav.
"I do not have a sense of comfort when I see how this filthy murderer won, by reaching old age and dying of a heart attack without being punished appropriately for the murder of innocent children."
The IDF said Wednesday afternoon it was "reviewing the circumstances" of the incident and had proposed a joint investigation with the PA. Jordanian pathologists will also join the team as observers, according to an AFP report.