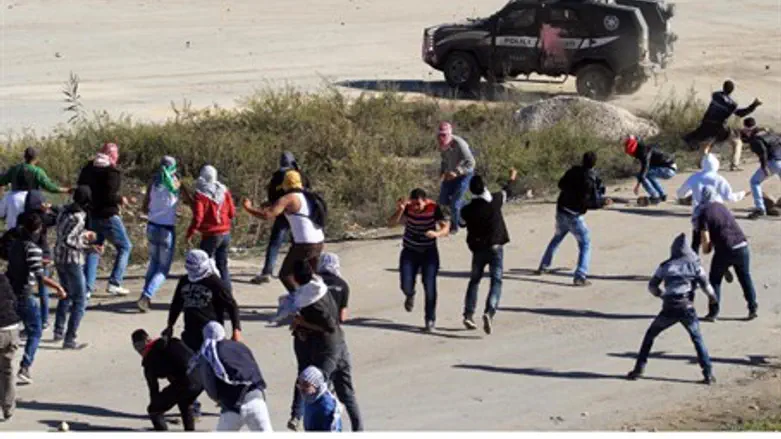 Arab rioting (file)
STR/Flash90
A 14-year-old Palestinian Arab teen was wounded during a clash at the Arab town of Jezaloun, AFP reports Wednesday, after he clashed with IDF forces during violent rioting.  
A medical source told AFP the boy, whose name was not given, was taken to hospital in nearby Ramallah in "very serious" condition.
The officials said the clash erupted in response to the death earlier of senior Palestinian official Ziad Abu Ein, who died of a heart attack during a "demonstration" against IDF forces.
An Israeli army spokesman said troops at Jelazoun were confronted by "a riot of 50 Palestinians... they hurled rocks and rolled burning tires at the force."
"The forces used riot dispersal means," he added, without specifying, but a spokeswoman added that no live fire was used.
The youth was given first aid by an army doctor before being taken to the Palestinian hospital.
Abu Ein, 55, a convicted terrorist who previously held the post of PA Deputy Minister of Prisoners' Affairs, died Wednesday of a heart attack during riots against the IDF. 
He was handed a life sentence in Israel in 1982 after being extradited from the US in 1981 over the murder of two Israelis in Tiberias in 1979. Abu Ein planted the explosives which killed the two - Boaz Lahav and David Lankri.
But he never served his life sentence over the callous murders - he was released in the Ahmed Jibril prisoner swap deal in 1985, just three years later.
Arab media claims Abu Ein died after being "beaten" by IDF soldiers, but footage from the event just hours ago proves that he remained untouched during his heart attack - and refused IDF assistance that could have been life-saving. 
Both Hamas and PA officials have incited violence and riots in their reactions to his death, calling on Palestinians to "resist the occupation" and vowing to "make Israel pay" for Abu Ein's death.