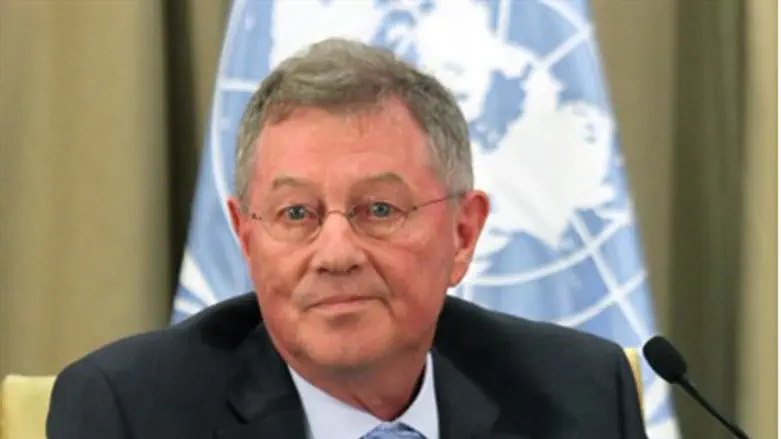 UN envoy Robert Serry
Flash 90
The UN special envoy for the Middle East Peace process, Robert Serry, urged Israel to conduct a "prompt, thorough and transparent investigation" into the death of a Palestinian Authority (PA) official and convicted terrorist Wednesday, AFP reports. 
UN chief Ban Ki-moon added that he was "deeply saddened" by the "brutal death" of Abu Ein. 
The secretary general "calls on Israeli authorities to conduct a swift and transparent investigation into the circumstances of the brutal death of minister Abu Ein," said his spokesman Stephane Dujarric.
He also called on the Palestinians and the Israelis to "exercise maximum restraint and avoid further escalation".
EU foreign affairs head Federica Mogherini, too, demanded an "immediate" inquiry.
"Reports of excessive use of force by Israeli Security Forces are extremely worrying: I call for an immediate, independent investigation into... Abu Ein's death," she said in a statement.
"I expect all sides to exercise maximum restraint at this time and to avoid all actions that would further raise tensions," she added.
An autopsy has also been called for Zaid Abu Ein, 55, a convicted terrorist who previously held the post of PA Deputy Minister of Prisoners' Affairs.
Abu Ein was handed a life sentence in Israel in 1982 after being extradited from the US in 1981 over the murder of two Israelis in Tiberias in 1979. Abu Ein planted the explosives which killed the two - Boaz Lahav and David Lankri.
But he never served his life sentence over the callous murders - he was released in the Ahmed Jibril prisoner swap deal in 1985, just three years later.
Arab media claims Abu Ein died after being "beaten" by IDF soldiers, but footage from the event just hours ago proves that he remained untouched during his heart attack - and refused IDF assistance that could have been life-saving. 
As a result of the incident, PA Chairman Mahmoud Abbas has chosen to cut security coordination with Israel, a move several MKs stated Wednesday will only harm the PA. 
Both the PA and Hamas have responded with outrage. Hamas issued a statement mourning Abu Ein's death, saying "the time has come to rally all our forces in facing the criminal Zionist occupation and stop all sorts of security coordination with the occupation"; PA "foreign minister" Riyad al-Maliki called for revenge, saying "Israel will pay." 
Meanwhile, the IDF said Wednesday afternoon it was "reviewing the circumstances" of the incident and had proposed a joint investigation with the PA.
A statement said Israeli forces had been confronted with "approximately 200 rioters" during the incident.
"Forces halted the progress of the rioters... using riot dispersal means," the statement said. "The IDF is reviewing the circumstances of the
participation of Ziad Abu Ein, and his later death."
It said an Israeli pathologist would be joining a delegation of pathologists from Jordan to examine the incident.