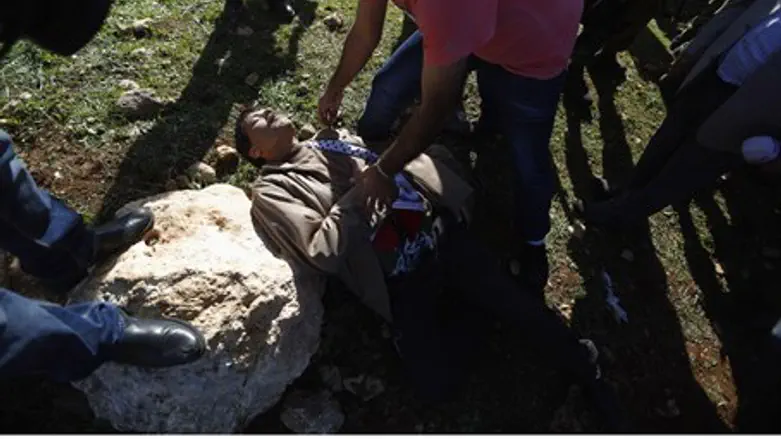 Ziad Abu Ein lies on the ground after clashing with IDF forces
Reuters
A senior Palestinian Authority (PA) official died Wednesday, after he apparently suffered a heart attack during a "protest march" in Samaria. Arab sources claim he was struck by soldiers. 
Channel 2 news's website cited PA sources who said that PA chairman Mahmoud Abbas has decided to suspend security coordination with Israel as a result. 
According to left-wing Haaretz, which had a correspondent on the scene, sources close to Ziad Abu Ein said that he had high blood pressure and diabetes. The newspaper also said that Abu Ein had been leading a protest march against the existence of a Jewish village, Adei Ad, and that he appeared to be in good health as he led the Arab protesters, who tried to force their way past an IDF contingent. He did not seem to have been affected by tear gas fired at the protester earlier, Haaretz reported. Some pushing and shoving ensued, and Abu Ein walked away and sat down.
When he showed signs of distress, he was approached by a female IDF paramedic but refused her help and asked to be evacuated to a Ramallah hospital.
Ziad Abu Ein, who was in charge of dealing with the issue of "Israeli settlements within the Palestinian Authority," was "martyred after being beaten in the chest," said Ahmed Bitawi, the director of the Ramallah hospital.
A Palestinian security source told AFP that Israeli forces beat Abu Ein with the butts of their rifles and their helmets during an Arab march in the village of Turmus Ayya near the Jewish town of Shilo in Samaria's Binyamin region. But video footage from the scene only shows mutual shoving between the sides.
As of 2:00 p.m. Wednesday, video and photographs from the altercation only showed Abu Ein on the ground, conscious and apparently suffering from chest pain. There was no photographic evidence of violence against Abu Ein. Instead of clearing the area around Abu Ein and allowing him to recover, one of the Arab activists can be seen massaging his back and pushing him to get up. 
Arabs at Turmus Ayya were rioting Wednesday and claiming that Jews from nearby Adei Ad threw rocks at cars and homes on Tuesday. The Jewish protest followed a series of horse thefts from Adei Ad, raids which the Jewish residents suspect were carried out by Turmus Ayya residents.
PA chief Abbas condemned "the brutal assault that led to the martyrdom" of Abu Ein, calling it "a barbaric act that cannot be tolerated or accepted," official Palestinian news agency WAFA said.
"We will take the necessary measures after the results of the investigation into the incident," Abbas said.
Abbas reportedly announced that the PA would hold three days of general mourning.
IDF sources meanwhile estimated that Abu Ein died of a heart attack after being hit and inhaling tear gas. "There was, indeed, use of tear gas, but the matter is under investigation," said the source.
An AFP photographer said Israeli soldiers had fired tear gas as Abu Ein participated in a march of some 300 Palestinians who intended to plant olive trees.
Three soldiers "grabbed Abu Ein and hit him in the chest," the photographer said. Abu Ein fell and an Israeli army doctor rushed to treat him before he was evacuated to hospital.
Duping foreign donors 
Abu Ein previously held the post of PA Deputy Minister of Prisoners' Affairs.
In June he said that ministry was being transferred to Palestine Liberation Organization (PLO) control, hinting it was being done to dupe foreign donors and avoid attention over the fact that the PA was bankrolling jailed terrorists.
"We eliminated the international pressure and the attempts to tamper with this issue," Abu Ein declared. "The (PA) leadership wants to keep this holy issue away from the influence of the donor countries, the interference of the donor countries, and the occasional negative influence of the donor countries."
Abu Ein once claimed that conditions in Israeli prisons were "worse than the Auschwitzes of the Nazis."
Abu Ein is no stranger to violent protests, and participated in a clash with IDF soldiers just two weeks ago.
Reuters photos of Abu Ein scuffling with IDF soldiers in Hevron two weeks ago: