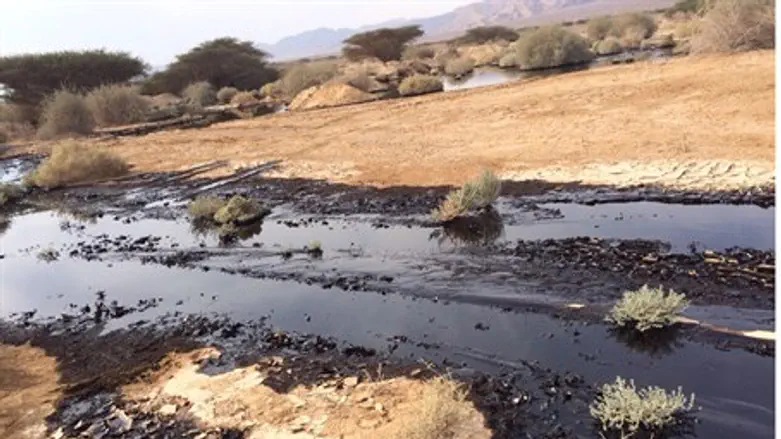 Arava oil spill
Nature and Parks Authority
Heavy rain began falling in the Arava region in southern Israel Tuesday, where 5 million liters of crude petroleum spilled from the Eilat-Ashkelon pipeline. The Ministry for Environmental Protection fears that the rain water may take the oil into the Gulf of Eilat.
Ministry employees have placed dozens of means of absorption along the channel that leads water south from Be'er Ora and the Evrona reserve, where the oil spill occurred on Thursday, in the hope of stopping the oil before it reaches the drainage location at Ein Evrona.
Initial reports placed the amount of petroleum spilled at one to 1.5 million liters, the equivalent of 40 tanker trucks, but this report turned out to be greatly underestimated.
"It's the biggest ecological disaster Israel has seen," Gilad Golub of Israel's Environmental Services Company told AFP. "This is because of the material itself, crude oil, which is particularly hard to flush out, and the location of the spill" on the reserve.
An Eilat Ashkelon Pipeline Company (EAPC) spokesman told AFP the leak, reportedly caused by a vehicle accidentally hitting the pipeline, was blocked within "minutes."
credit: Israeli Environmental Protection Ministry
credit: Israeli Environmental Protection Ministry
credit: Israeli Environmental Protection Ministry
credit: Israeli Environmental Protection Ministry
credit: Israeli Environmental Protection Ministry
credit: Israeli Environmental Protection Ministry
credit: Israeli Environmental Protection Ministry
credit: Israeli Environmental Protection Ministry