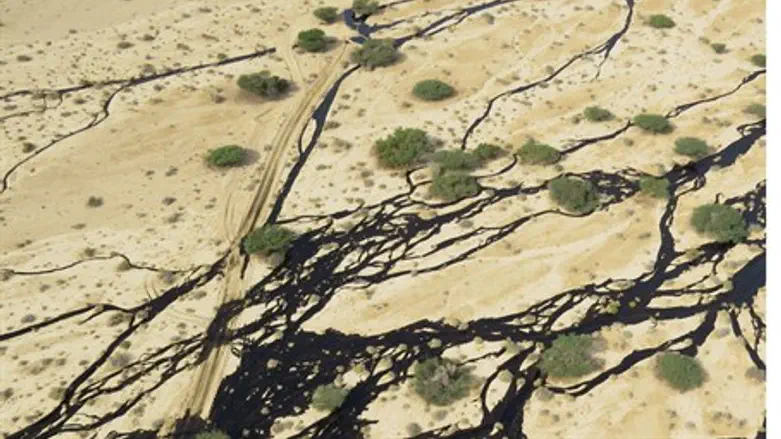 Arava oil spill
Israeli Environmental Protection Ministry/Flash 90
The oil pipeline leak in southern Israel's Arava region last week has caused the country's biggest environmental disaster, an energy expert said Monday, after estimates of the size of the spillage were raised by as much as 60%.
The spill occurred last Thursday near Be'er Ora 20 kilometers (12 miles) north of Eilat and was quickly stopped, but not before a massive amount of oil was spilled in a protected nature reserve.
Initial reports placed the amount at over a million liters of oil, the equivalent of 40 tanker trucks, but reports on Sunday indicated the actual amount spilled was more in the range of 3 million liters, in a massive disaster that will take many years and millions of dollars to reverse.
"It's the biggest ecological disaster Israel has seen," Gilad Golub of Israel's Environmental Services Company told AFP. "This is because of the material itself, crude oil, which is particularly hard to flush out, and the location of the spill" on the reserve.
Golub also expressed concern that "with the next rain, the oil could pour into the Gulf of Eilat."
An Eilat Ashkelon Pipeline Company (EAPC) spokesman told AFP the leak, reportedly caused by a vehicle accidentally hitting the pipeline, was blocked within "minutes," but would not give an exact figure for how much oil was spilled.
The EAPC and the ministry are still working "around the clock" to clean up the spillage, the company said in a statement.
AFP contributed to this report.