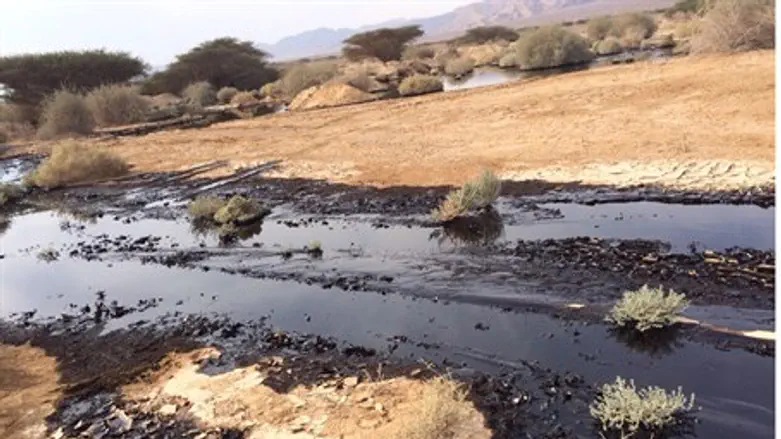 Arava oil spill
Nature and Parks Authority
The State Comptroller, Judge (ret) Yosef Chaim Shapiro announced Monday that an investigation has been launched over last week's oil spill in the Arava desert and Avrona nature reserve.
The investigation will determine the full extent of the damage in the spill, which has been labeled an "ecological disaster," and involve witness testimony from anyone directly or indirectly involved with the spill. 
On Sunday, EAPC broke some of the silence regarding the true damage of the leak, which is said to be some 60% larger than previously thought. Around 3 million liters of oil was spilled in the accident, according to a report it submitted to the Environmental Protection Ministry - not between 1 million and 1.5 million, as originally thought.
Aerial view shows just some of the area effected by the spill
Israeli Environmental Protection Ministry
The new numbers may suggest that the valve was not immediately closed as soon as the leak began, Haaretz reported, as EAPC officials claimed in their response to the class-action lawsuit filed this week - significantly increasing the damage. 
Earlier Sunday, Director General of the National Parks Authority Shaul Goldstein told Arutz Sheva that intense efforts are being launched to clear the Arvona reserve from contamination. 
"We are trying to see how best to contain the damage," Goldstein stated. "The soil remains soaked in pollutants and we are checking whether or not we could use heavy equipment or drive on it." Goldstein added that as a result, some of the work will be done by hand. 
The massive pipeline oil spill in the Arava desert, near Be'er Ora 20 kilometers (12 miles) north of Eilat in the southern Negev, involved the spill of over 1,000 cubic meters - the equivalent of 40 tanker trucks - of oil. It was described as an "environmental disaster" by environmental activists.
The spill not only closed Route 90, but also proved to introduce a number of health risks. A class-action suit has been filed against the Eilat Ashkelon Pipeline Company (EAPC) in the spill's wake.