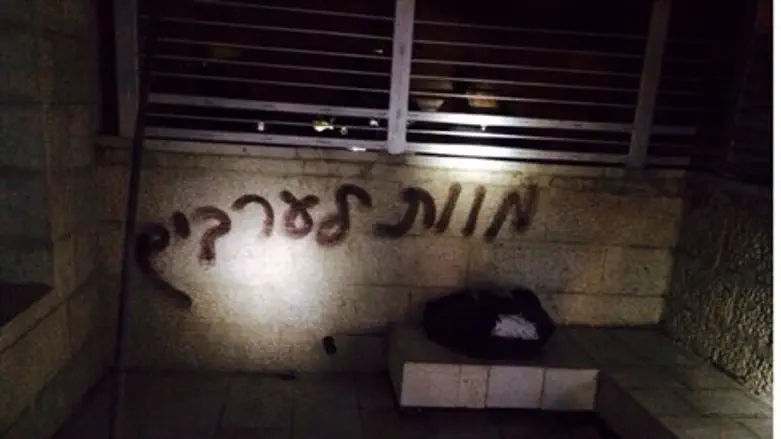 Site of arson attack
צילום: אריק אבולוף - כב"ה ירושלים
The Central Unit of the Border Police, as well as the Israel Security Agency (ISA or Shin Bet), has arrested several suspects in last week's arson on a Jerusalem dual Arabic-Hebrew language kindergarten, it was cleared for publication Sunday. 
The Petah Tikva Magistrate's Court has, as of Sunday night, extended the detention of suspects for four more days, following an Israel Police request to extend detention for eight days.
Attorney Itamar Ben-Gvir, who is representing the suspects on behalf of rights group Honenu, stated Sunday that investigators have banned him from meeting with his clients.
"This is a blatant violation of civil rights," Ben-Gvir declared. "I wonder - where are the civil rights organizations that protect the rights of all vile terrorists?"
"I fear that the conduct of the ISA toward the suspects will force them to confess to things they did not do," he added. 
The Jerusalem District Court will convene Monday over the request for Avihay Ha'jeb, a second attorney representing the suspects with Ben-Gvir, to meet with their clients. 
The kindergarten was vandalized and set ablaze last Saturday night by apparent extremists, and graffiti with anti-Arab phrases was found scrawled on its walls.
Several top politicians and officials issued strong condemnations of the arson, including Jerusalem mayor Nir Barkat and Education Minister Shai Piron. Leftist MKs blamed the arson on the controversial "Jewish State Law."
Earlier Sunday, the court cleared for publication that a "significant development" had been made in the case, but due to a media gag order, no details had yet been released - until now.