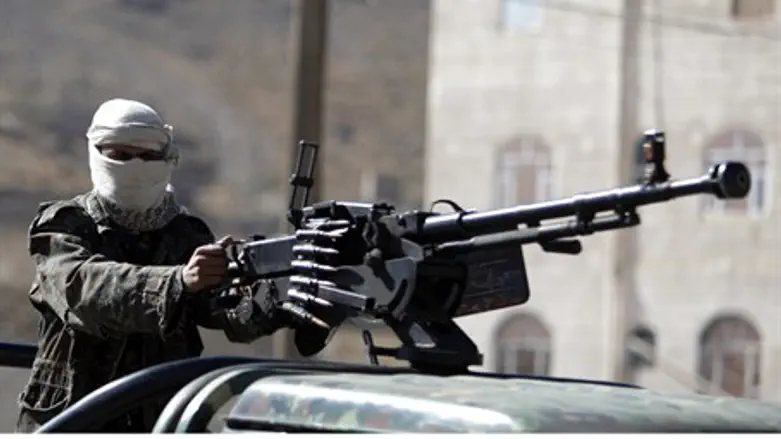 Yemeni paramilitary police trooper in Sanaa
Reuters
British-born American journalist Luke Somers and a South African teacher, Pierre Korkie, were killed on Saturday by Al-Qaeda terrorists in Yemen during a failed rescue bid.
According to the BBC, Saturday's operation was carried out by joint U.S. and Yemeni special forces in the southern Shabwa region.
The two hostages were being held by Al-Qaeda in the Arabian Peninsula (AQAP), which is based in eastern Yemen and has built up support amid the unrest which has beset the impoverished country since the overthrow of President Ali Abdullah Saleh in 2011.
President Barack Obama said he authorized the raid to rescue Somers and other hostages held in the same location.
He said information had "indicated that Luke's life was in imminent danger".
Both Somers and Korkie were "murdered [by] terrorists during the rescue operation", Obama said.
He offered his "thoughts and prayers" to Korkie's family, saying, "Their despair and sorrow at this time are beyond words".
A charity working with Korkie said that they had expected his release on Sunday, and that the rescue attempt had "destroyed everything".
A number of terrorists were also killed in the operation, according to the BBC.
Senior U.S. officials, speaking on condition of anonymity, told The Associated Press news agency that they believed both men were shot by their captors as the raid unfolded, and eventually died of their injuries.
Both hostages were alive when the forces rescued them, pulling them onto a plane that flew to a nearby U.S. naval ship, officials said.
However, Korkie is believed to have died during the flight, while Somers died on the USS Makin Island, they added.
The rescue attempt came just days after AQAP threatened to execute Somers if its demands are not met within three days.
In the three-minute video released Wednesday, senior AQAP figure Nasser bin Ali al-Ansi appears sitting at a desk with his face uncovered, calmly reading a list of grievances against the United States, including military operations in Yemen, Somalia, Iraq and Pakistan. He then warns the U.S. that it has "a time-frame of three days from the issuance of this statement to meet our demands about which they are aware."
AQAP has carried out many terrorist attacks in Yemen, including a car bomb attack that killed three people at the Iranian ambassador's residence in Yemen this past week.