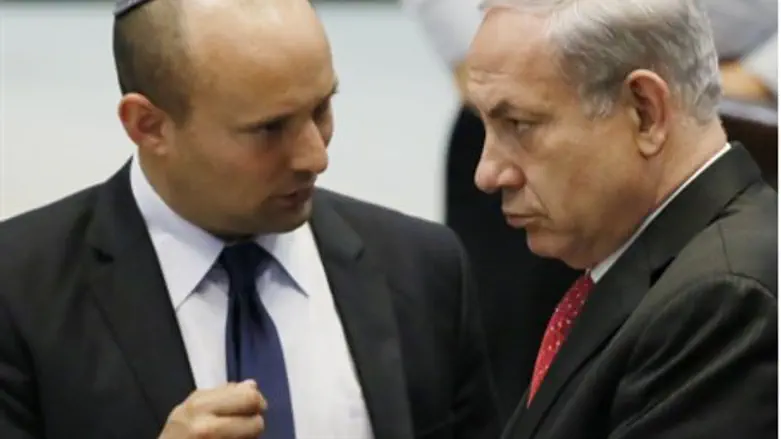 Naftali Bennett and Binyamin Netanyahu
Flash 90
Coalition chairman MK Ze'ev Elkin (Likud) and Jewish Home MK Ayelet Shaked signed Thursday an agreement which would benefit both parties in the 20th Knesset elections.
The agreement, a "surplus vote agreement," stipulates that additional votes from the two parties - votes which do not amount to a Knesset seat for either party if counted separately - could be combined to form one additional seat for either of the parties, and would award an additional seat to the party which needs it the most.
A similar agreement was signed between Yesh Atid and Labor in 2012; Meretz Chairman Zehava Gal-On stated during the last elections that Likud had picked up two seats in 2003 due to such an agreement, harming the extreme left-wing party in the process.  
The agreement is part of efforts between Likud and Jewish Home, and their chairmen, Economics Minister Naftali Bennett and Prime Minister Binyamin Netanyahu, to strengthen the relationship between the two parties.
The announcement follows a similar report just hours ago that Shaul Mofaz's Kadima, Yitzhak Herzog's Labor, and Tzipi Livni's Hatnua parties may unite to form a left-wing bloc in an attempt to swing the direction of the next government. 
According to a poll this week conducted by the Rafi Smith Institute for Globes, if Livni and Herzog were to run together they could expect to get 24 seats and become the largest party, outstripping Likud by one mandate.
A center bloc may also be in the works, Channel 10 reported Thursday - as Yisrael Beytenu Chairman Avigdor Liberman, Yesh Atid Chairman Yair Lapid, and former Likud MK and new political party head Moshe Kahlon have allegedly declared intent to cooperate with one another during the next elections.
A small possibility remains that the three - who have all declared that they wish to see someone other than Netanyahu become Prime Minister - may run on a joint list.