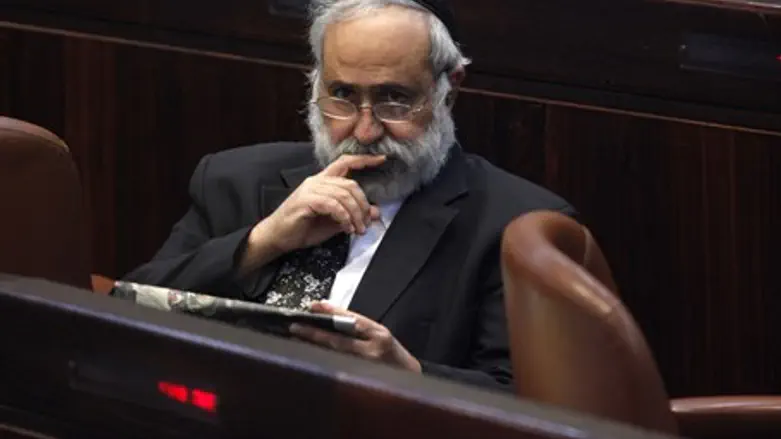 MK Nissim Ze'ev
Miriam Alster/Flash 90
MK Nissim Ze'ev (Shas) told Arutz Sheva on Thursday that Yesh Atid chairman Yair Lapid indeed tried to organize a putsch against Prime Minister Binyamin Netanyahu with the hareidi parties, as Netanyahu accused Lapid of doing in a press conference this week.
However, Ze'ev said, Lapid did not directly approach Shas but rather sent "messengers" to the party's members in order to find out whether they were willing to form an alternative government.
Lapid's methods of operation are "proof of his subversion," according to Ze'ev.
"It's indicative of a method. He was all about pure hatred of hareidim. Unfortunately he dragged the Prime Minister after him. This government never stopped harming the hareidim and the weaker sectors," he charged.
Ze'ev further said that Netanyahu could have prevented elections if he had formed an alternative coalition without Lapid and including the hareidi parties, the Jewish Home, and Tzipi Livni's Hatnua party.
"It would have been a rock solid government. Livni was not subversive, but Lapid used his seats used to try to bring down the government so that he can he reign and become prime minister. It shows how much bad blood is in this man," said Ze'ev.
In the interview, the Shas MK also addressed the ongoing tensions between party chairman MK Aryeh Deri and MK Eli Yishai, despite recent reports that the two had met and agreed to work together.
"There is allegedly an explosion or controversy, but that is not true. The party is united," Ze'ev said, though he acknowledged that "there is room to reconcile between the former chairman and the current chairman. It is certainly possible to do so and I am doing my part to achieve this."
Finally, Ze'ev said he was unaware of the report on Arutz Sheva that Yishai was in contact with Housing Minister Uri Ariel regarding the formation of a new party.
"I have not heard about it," he said, adding, "Yesterday, Yishai and I were sitting together and the trend is unity within the movement. He has some requests that can be overcome. We can bridge the gaps and go to the elections together."