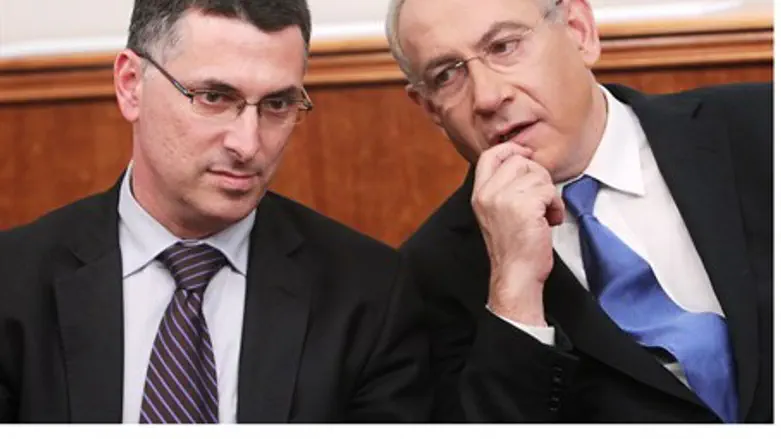 Gideon Sa'ar, Binyamin Netanyahu
Miriam Alster/Flash 90
Former Likud Interior Minister Gideon Sa'ar, who last month stepped down to take a break from politics, is reportedly currently considering a comeback to challenge Prime Minister Binyamin Netanyahu for control of Likud.
Likud activists checked in recent days to see if Sa'ar could still run in January primaries, and found that the latest date for submission of candidacy to run for chairperson of the party is in another ten days.
Sa'ar in September gathered activists at his Ramat Gan home and announced he was taking a break from politics.
"In the past two years, against the backdrop of changes in my personal life, I have decided to take a break from public life," Sa'ar announced. "It is difficult for me to leave, and there is always a reason why not to do so. I thought about it two years ago when MK (Moshe) Kahlon did so first and I didn't want to cause damage in the elections."
The reference was to former Likud minister Moshe Kahlon, who has founded a new party and will be running in the upcoming elections.
Likud Central Committee Chairman MK Danny Danon, who also is running in the primaries, hinted last month that both Sa'ar and Kahlon stepped down because of Netanyahu.
"The leaders of the movement must conduct a self-examination and find out why central and important people are leaving the Likud," said Danon.