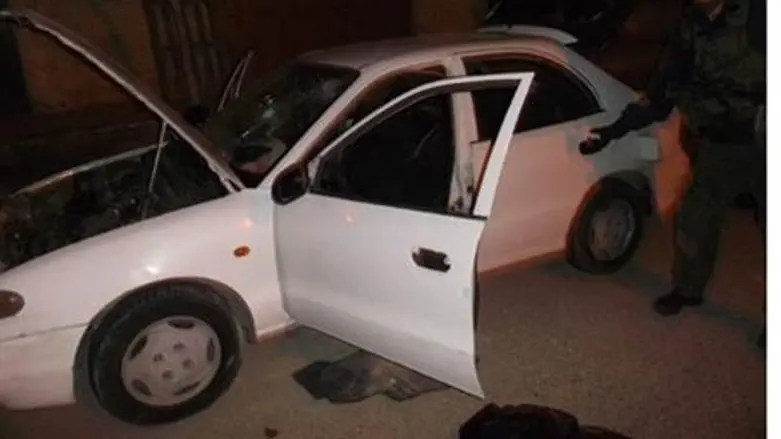 The suspect car
Police Spokesman
Muslim Arab terrorists hurled a pipe bomb at about 1 a.m., Tuesday night at a Border Police vehicle that was driving on the military road next to the security barrier at Abu Dis, just east of Jerusalem.
No one was reported hurt in the ambush, which led policemen – along with another Border Police team that was operating nearby – to catch the perpetrators.
At the University Junction in Abu Dis, the teams noticed three cars driving wildly. They gave chase and followed one of the vehicles, as the other suspect cars split off in other directions. The vehicle that they followed lost control after a short chase and crashed into an electrical pole.
Pipe bombs found in car.
Police Spokesman
The policemen succeeded in arresting the driver, who tried to get away on foot. Inside the car, they found three pipe bombs that were ready for throwing.
They immediately closed off the location and called a police bomb expert, but local Arabs began to gather around them and riot. The police team successfully fought off the rioters with riot dispersal equipment, while guarding the suspect and the unexploded bombs.
The bomb expert arrived a few minutes later and defused the bombs. The suspect, a resident of Abu Dis in his 20s, was taken to interrogation at the Maale Adumim police station. It later turned out he had been wanted by the Israel Security Agency (ISA, or Shin Bet) and was turned over to them.
Two policemen were lightly wounded by rocks in the course of the rioting. They received treatment at Hadassah Har Hatzofim hospital.