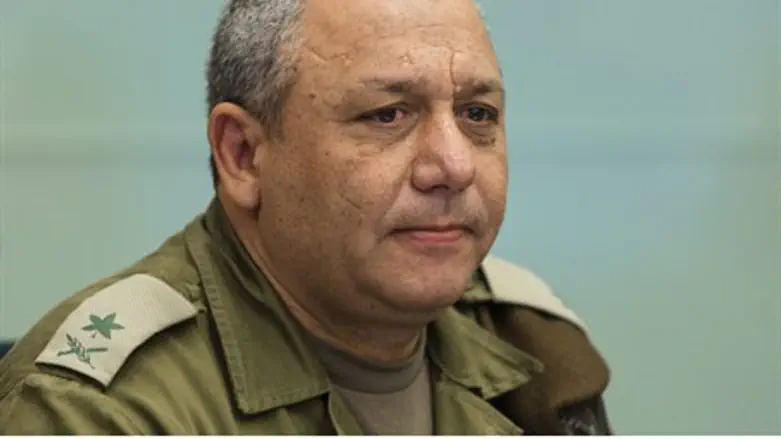 Gadi Eizenkot
Flash 90
Defense Minister Moshe Ya'alon officially declared Major General Gadi Eizenkot the next IDF Chief of Staff on Saturday, explaining that Eizenkot is "an excellent candidate who is worthy and experienced" for the job.
"I believe that Major General Gadi Eizenkot right person at this time to lead the army in the coming years," Ya'alon stated Saturday night. "I have known Eizenkot for years, and he brings professionalism, leadership abilities, great wisdom, responsibility and judgment [to the position]."
"Eizenkot excels at combat experience and leadership, and he has had significant achievements during the course of his military service, both as a fighter and commander in the field and in key staff positions," Ya'alon continued. "Throughout his service, Maj. Gen. Eizenkot has demonstrated his honesty and integrity, good values and adherence to his ideals and principles."
"Israel and the IDF will be, in the coming years, facing the most complex security challenges on all fronts and along its borders," Ya'alon added, "and Gen. Gadi Eizenkot is most appropriate officer to take the baton from the hands of the Chief of Staff Benny Gantz, and lead the IDF in the coming years in dealing with these challenges."
Ya'alon wished Eizenkot success, as well as to Major General Yair Golan, who will be appointed as the Deputy Chief of IDF Staff.
Eizenkot, 54, has served over the past two years as Deputy Chief of Staff. He was originally assigned to the Golani Brigade, which he himself eventually commanded from 1997 to 1998.
In 1999 Eizenkot was selected to be the Military Secretary for the Prime Minister and the Minister of Defense under then Prime Minister Ehud Barak. He later commanded the 366th Division and the Judea and Samaria Division. He was promoted to head of Israeli Operations Directorate in June 2005.
In October 2006, Eizenkot became head of the Northern Command, replacing Maj. Gen. Udi Adam, who resigned amid criticism over his conduct in the Second Lebanon War.
Eizenkot will replace the current Chief of Staff, Lieutenant General Benny Gantz, in February.